Part III Contemporary music /multi-disciplinary works (2014 - Present)
Creating the Music / Moving towards a Contemporary Sound
{Write up to be inserted}
(Extracted from The Strait Times Life! feature interview with Tze Toh: Composing to improvise, by Akshita Nanda, 18th July 2016)
The composer, who turns 38 tomorrow, works with filmmakers, dance and theatre troupes while also composing for his nine year- old To Ensemble, formerly named Tze N Looking Glass.
"You shift a note or quaver and the world changes. That's the art and craft of composition.As a composer, I see where the notes should go but as an improviser, I can change my mind." Toh Tze Chin, on why his compositions allow himself and other musicians large spaces to improvise.
The ensemble is a cult favourite here for its fusion style and animation-enhanced concerts, which appeal to lovers of classical music and anime soundtracks alike
Earlier this month, dancers Eng Kai Er and Faye Lim squeezed into that work space to put together music for their month-end dance project, She Ain't Heavy, She's Reaching Into Space, presented by well-known arts troupe Theatre- Works. He has also composed for T.H.E Dance company, for director Royston Tan's award-winning 2013 short film Popiah and for Singapore's first animated feature, Sing To The Dawn (2008).
Straits Times reviewer Adeline Chia wrote of the music: "The live piano music provided by Toh Tze Chin had a painterly effect and fleshed out the characters. The sweet whimsical theme that accompanies the protagonist will be playing in your mind for days."
Toh lost to Philip Tan & Tiramisu for Desire At The Melancholic String Concert, but Snails & Ketchup went to the Edinburgh Fringe Festival and was presented in a massive culture festival alongside the London Olympics.
Straits Times classical music reviewer Chang Tou Liang says of Toh: "I think he is unique, a true crossover artist who is not afraid to experiment with different new ideas and mixing classical, jazz, new age and traditional Asian music genres."
The appeal goes beyond sound. A fan of Japanese composer Ryuichi Sakamoto, he has created his own anime-like concert series, Land With No Sun. Here, music is complemented by animated films – made by his younger brother Yixue – about a post-apocalyptic society where humans live in "Sky-cities".
The score includes soprano solos in Italian, an ensemble playing with a set score and also improvisation between classical Indian violinist Lazar Thurakkal Sebastine and pop-and-jazz saxophonist Teo Boon Chye, formerly of Singapore band Jive Talking.
"I write beginnings and endings for them, not the middle," Toh says.
Many are bowled over by his rare ability to unite the free-wheeling nature of jazz and Indian tradition with the rigorous techniques of Western classical music.
Take, for example, noted young violinist Loh Jun Hong, who has played with the Singapore Symphony Orchestra and is in growing demand as a soloist.
The 26-year-old attended To Ensemble's Land With No Sun II: Dance Of The Earth concert in February and stayed back for the post-show discussion to find out how Toh put the music together.
"I was really impressed," Loh says. "Improvising is fine, but improvising with an ensemble with a set score is something else." Equally impressed by the animation, he is asking Toh for tips on "packaging" his own concerts.
He adds: "Everything was so nice. Even the programme booklet is something you want to keep." The programme art is done by Toh, who has stacks of Moleskine notebooks filled with detailed drawings.
Toh thinks his musical style is only natural. "It's a large part of having grown up here, thinking that so many different cultures can come together and create something. In many parts of the world, you don't have that – so many cultures comfortable with one another."
Long a cult favourite, To Ensemble has been gaining greater recognition and more gigs. It will be featured later this year in the second edition of the Singapore International Music Festival, organised by Opera Viva and The Arts House, and curated by Loh, with well-known conductor and Grammy nominee Darrell Ang.
Award-winning Malaysian photographer Stefen Chow, 36, has known Toh since their days staying in the same hall of residence at the National University of Singapore (NUS).
Toh composes music for Chow's commercial and personal projects, including Equivalence, a look at poverty through purchasing power.
Chow says: "Tze Chin is very honest and not one to sugarcoat things if he thinks that something is not right. Not everyone can work with him, but those who have worked with him over the years find that he's one of the most genuine artists out there."
He got to know Toh because he wanted to buy an electronic keyboard for his then-girlfriend and knew Toh could help. He recalls that Toh took him from shop to shop until they found a keyboard that was worth the expense. Chow says: "It was a good investment because that girlfriend is now my wife. We still have that keyboard at home."
Toh is mostly self-taught. His heroes include film soundtrack guru Hans Zimmer, who avoided piano lessons as a child. Sent for piano lessons with his younger sister, Toh began composing his own tunes at age 10 because the practice scores were too boring.
Today, rather than scribbling on paper, he composes by hooking a keyboard to his laptop and using LogicPro software to transform that into music.
"I could never have been a composer if I had lived in Mozart's time,"he says, laughing.
His methods are unusual, says his assistant and girlfriend Pearl Yim, 25, a music teacher and part-time composer who sometimes plays with To Ensemble and helps organise its concerts.
She hums and tries out melodies when composing.
"He can hear the sound in his mind, but he can't write it out so he describes it to the musicians. We try it out until he says, 'Yes, that's what I want,'" says Ms Yim.
Toh did not know that he wanted to be a full-time musician until he was in his 20s. However, he was always artistic, says his brother Yixue, a 29-year-old animator who works in advertising.
Toh studied in Rulang Primary School, River Valley Secondary School and Jurong Junior College before doing his bachelor's degree in computing at NUS. It was there that he joined the NUS Piano Ensemble and began performing in public for the first time.
He entered songwriting competitions as well and was spotted by members of Eusoff Hall. The hall of residence was making a film based on the Madam White Snake legend, and director Lin Wei insisted Toh move into the hall to compose the music.
Recalls Lin: "When he's inspired, he's super-fast. After I told him the story, he started to whip out soundbites." The 38-year-old is the founder of United Design Practice, an award-winning Beijing-based studio that works in multiple disciplines, including design, architecture and branding.
Toh composes for the studio and Lin is also a fan of the Land With No Sun series. Toh credits Lin and their film, Snake, for getting him started on his current life as a composer.
"I loved programming Java, but when I started writing for productions, I was so inspired. I realised this was something I could do for the rest of my life."
Yixue says Toh's decision to pursue music full-time changed him for the better. "He used to be quite an introvert. He didn't like to talk to people. After he decided to step into the unknown and pursue music, I noticed he became really open and receptive."
After graduating from NUS, Toh did a diploma in music (jazz performance) at Lasalle College of the Arts and worked for a while at German music studio Schtung Music before it closed down.
Then he went freelance, doing musical arrangements and compositions for schools and societies. Around this time, he met Teo and also began jamming with Indian violinist Sebastine, 49, who was initially sceptical about the younger man's enthusiastic desire to collaborate.
He thought "it would be like mixing milk and curry".
When he finally did give Toh a chance, he played the classical raaga Amrithavarshini, rumoured to be able to bring rain. Toh immediately described the sound as "cooling" and reminiscent of the rain.
Sebastine says: "I realised that regardless of race, musical notes can convey meaning to anyone."
In 2011, Toh put Sebastine and Teo together for An Indian Folk Song Meets Jazz. The song won first prize in the instrumental category at well-known contest, the UK Songwriting Contest, organised by the trust behind the Brit Awards.
This year, Toh's calendar is full, with performances and projects, including a month-long series at the National Gallery in September.
About five concerts are planned and the ensemble will play original music inspired by artwork in the gallery.
"It's only recently that I have started getting these offers every other day. It takes a long time for people to start coming to you because they like your work," the composer says.
Toh describes the theme with the glee of a magician unveiling a trick: "You take conventions and you twist them around. You see a string quartet and expect classical music, but instead, they play jazzy blues."
Read full article here
Odysseys
Spectrum presented by Esplanade Theatres on the Bay
2nd March 2014, Esplanade recital studio
(Extracted from The Strait Times article, Odysseys concert soars, by Chang Tou Liang, 4th March 2014)
In this concert from Esplanade's Spectrum series for contemporary music, there was an unexpected air of its Mosaic series for jazz, fusion and indie music about it. That was because Tze n Looking Glass Orchestra, founded by local jazz pianist and largely self-taught composer Tze Toh, is more a fusion band than an avant-garde instrumental ensemble.
Its present guise is in effect a 21st century globalised manifestation of the concerto grosso ensemble from the baroque era, complete with a central nucleus of soloists, back-up musicians of strings, woodwinds and brass, with Tze helming the basso continuo including bass and electric guitar.
The concertino group is decidedly cross-cultural Asian, including Chinese erhu player Dai Da, Indian violinist / raga specialist Lazar T.Sebastine and jazz saxophonist Teo Boon Chye. Although improvisation plays a big part for the soloists, the music composed by Tze crosses over comfortably between genres, with pop song idioms and film music being considerable influence as well.
The 70-minute concert was easy-listening from start to end, opening with A Kite in the Sky, a slow and meditative number with erhu and saxophone garnering the spotlight. Next, The Odyssey launched into a pulsating allegrorepresenting flight, with fast repetitive patterns that at points was reminiscent of Michael Nyman and Michael Torke, classical establishment minimalists. While Teo's solos dominated, Sebastine's violin could have had a more extended run of his own.
The major centrepiece was Gods & Ragas, a triptych of musical avatars representing the triumvirate of Hindu deities. Brahma (Creator) was the most traditional movement, serenely cast in G major featuring Sebastine's improvisations and wordless vocalises from soprano Izumi Sado, quietly backed by strings and winds playing harmonics and glissandi.
Vishnu (Protector) was the most jazzy, with a persistent ostinato beat provided by Wendy Phua's electric bass over which erhu and sax soared to a heady crescendo. In the final Shiva(Destroyer), the piano rumbled from an abyss, from which the concert's only atonal bits gave way to a sort of requiem where Sebastine's prestidigitation would make Tartini's Devil's Trill seem tame by comparison.
The concert closed on an ecstatic high with In Time Love Comes, where Sado's mellifluous lines floated with a celestial quality above the instrumental throng. Tze truly knows where to hit the right buttons when it comes to writing romantically inclined music, with this number being ample proof.
Cultivating young talents: Alternate Worlds
4 July 2014, Esplanade recital studio
Alternate Worlds | もうひとつの世界 a fusion concert by Tze n Looking Glass Orchestra (TLGO) "Tze n Looking Glass Orchestra is a 21st century globalized manifestation of the baroque concerto grosso ensemble. Its music is cross-cultural Asian, and crosses over comfortably between genres and eras, with an unexpected air of jazz, fusion and indie music about it.
A TLGO special collaborations concert featuring various artistes, including 7 year old pianist Aone Ozaki, the Bukit Timah Primary School Choir, Emanon sax quartet, bassoonist Christoph Wichert, violinist Christina Zhou, saxophonist Teo Boon Chye, with new music exploring the the convergence of the different musical worlds from jazz, tango, anime/video game music, film.
Featuring new solo/duet piano, choral, fusion string quartet, wind quintet works, and a special performance of Tze's original score for film maker Royston Tan's award-winning short film Popiah [薄饼]and more!
Concert review: Alternate Worlds by Tze n Looking Glass Orchestra
(Extracted from The Strait Times article, Concert review: Alternate Worlds by Tze n Looking Glass Orchestra, by Natalie Ng, 27th July 2014)
Looking through the programme booklet, one gets a sense that largely self-taught composer and jazz pianist Tze Toh was trying to do too much with too little time. He had put together a "genre concert" of his compositions which promised video game music, jazz, funk, world music, choral works, film soundtracks and improvisations; these were to be performed by ensembles of various combinations: a saxophone quartet, a children's choir, a string quartet, a wind quartet, a solo saxophone and the Looking Glass Orchestra (which was really an ensemble of 12 musicians). Throughout the concert, Tze rushed around like a busy host, introducing the performers and the pieces either before or after each item, talking about the works as the crew set the stage.
Tze was at the piano for most of the concert, except for two pieces, Adventures Of The Goggled Giraffe and Prelude To Avalon, which were played by 7-year-old Aone Ozaki. The former was a lively and comical miniature for piano orchestra, and the latter was a sentimental solo piano piece. Ozaki handled these expressively with sensitive pedalling and a varied touch, with no sign of nervousness.
Like the above mentioned pieces, many of the works were written with visuals in mind, evoking a scene, a mood, or a memory. Opening the concert was the two-movement Island Of Spring, inspired by the music of film composer Ennio Morricone. Scored for boy solo, children's choir and orchestra, Tze clearly knew how to exploit the various timbres to conjure up the lush imagery. The contemplative prelude which led into the joyous second movement could have been much better sustained by the visibly nervous choir and boy soloist Timothy Tan, but at the reprise of the opening theme, they seemed to have warmed up and gained confidence, which made all the difference in sound.
Mornings And A Thread Through Time were also poignant, nostalgic works scored for strings. The latter was composed for Royston Tan's short film Popiah, and featured Christina Zhou as a violin soloist. Zhou's tender and heartfelt playing was immediately transformed in the next piece, Passing Morning, a catchy jazz number which required the string quartet to play in a bluesy style.
The other jazz works featured Teo Boon Chye on the saxophone and Wendy Phua on the electric bass. Most were improvisatory passages over a set chord progression. Although Teo was a master at improvising, belting out long complicated lines and sultry tunes, his intonation was less than perfect. Playing without first tuning, he remained annoyingly sharp whenever he played on the soprano saxophone.
Jokingly mentioning that he improvised when he was too lazy to write music, Tze included two improvisations on the programme, which he performed with Teo. The first was more structured and had rhythms reminiscent of Albeniz's Tango, while the second, which ended off the concert, was more fragile and delicate. Tze and Teo bounced ideas and themes off each other, creating music on the spot out of nothing.
Tze has shown that he can take any combination of instruments, any genre of music which he set out to write, and together with the Looking Glass Orchestra, create alternate worlds of sounds that are appealing to all ages.
Read full article here.
Composer Tze Toh brings together classical Indian violin, saxophone and Western strings in experimental concerts
(Extracted from The Strait Times article, Mixing milk and curry, by Akshita Nanda, 20th February 2016)
For years, classical Indian violinist Lazar Thurakkal Sebastine thought working with musicians from other genres was "like mixing milk and curry" and to be avoided.
Then he met composer Tze Toh and was hooked by the Singaporean's fusion style. Since 2007, the violinist has been part of the composer's "rojak" group of musicians, formerly known as Tze n Looking Glass and renamed the TO Ensemble in October last year.
At concerts such as the upcoming Land With No Sun II: Dance Of The Earth, on Feb 27 at the Esplanade Recital Studio, Sebastine, 49, plays with musicians such as pop-andjazz saxophonist Teo Boon Chye (formerly of Singapore band Jive Talking) and string players from the Western classical music tradition.
The concerts also present narratives worthy of opera. Through vocals, instrumental music and multimedia, they will continue the story of last year's audio film, Land With No Sun, and piano concert Land With No Sun: Promemoria. Both describe a post-apocalyptic society where the Earth is uninhabitable and humans live in "Sky-cities".
Toh's concerts are multi-disciplinary, experimental and impossible to describe, says The Straits Times' freelance classical music reviewer Chang Tou Liang.
"I enjoy his work because he is spontaneous and free-spirited, not bound by convention or dogma, and often changes the rules as he goes," Dr Chang adds .
Toh - whose full name is Toh Tze Chin - is mostly self-taught. Now 37, he began writing music at age 10 to escape the drudgery of the scores a piano teacher assigned to him and his younger sister. He also has a younger brother, a computer graphic motion designer who helps with the multimedia for his concerts.
He developed his own musical notation in his pre-teen years as well as a fondness for "jamming", or improvisation, over being note-perfect for every score.
"The main difference between people who play Western classical music and jazz or Indian classical music is the flow of music," he says. "People who play Western classical music control the music. But it's important to know that it's all right to be imperfect, to just let go."
Toh did his bachelor's in computer engineering at the National University of Singapore, followed by a diploma in jazz performance at the then Lasalle-SIA College of the Arts. He makes a living as a composer and has written music for the animated film Sing To The Dawn (2008) and Royston Tan's 2013 film Popiah, as well as sound cues for Discovery Channel Asia's series, Man Made Marvels.
"That was fun, the short 'dun-dun-dun' crisis cue," he says, drumming on the table to illustrate.
He also wrote the music for Snails & Ketchup, actor Ramesh Meyyappan's production for the London Cultural Olympiad in 2012, held alongside the Olympic Games.
His work can be challenging to play and difficult to fund. The TO Ensemble plans two major concerts a year. Ticket sales and the National Arts Council's $8,000 presentation grant account for only part of the $20,000 production costs of a concert. All involved take a pay cut to help, though Toh declines to say how much.
"I always tell musicians: 'Don't play with us to be paid. Play with us if you like the music,'" he adds.
Saxophonist Teo, 48, fell for the music after meeting Toh eight years ago at a provision shop the composer's parents run. For him, the fun is in coming up with saxophone riffs that work with the Indian violin and classical Indian raagas (traditional arrangements of notes).
"The scales used in raagas are so tough. They're different from Western scales, which I'm attuned to. After all these years, they are still a challenge," he says.
Violinist Sebastine calls Toh's work "real fusion music".
"You can play Rasa Sayang with tabla," he says, referring to the Indian drums. "But that is not real fusion. Tze always tries to create something new. This is real fusion created with two or three genres coming together."
Initially sceptical about the collaboration, he was won over at their first meeting when he played the classical raaga Amrithavarshini, rumoured to be able to bring the rain.
"Without me telling him anything, Tze said, 'It sounds very cool,'" Sebastine recalls. "It just shows how, regardless of race, musical notes can convey meaning to anyone."
Read full article here.
LAND with NO SUN | 無太陽地帶 | Terra Senza Sole
29th January 2015, Esplanade recital studio
Extracted from The Strait Times article, Requiem for our lost civilisation, by Dr. Chang Tou Liang, 31st January 2015)
Composers were supposed to write symphonies, sonatas and atonal works that eschewed melodies in order to be taken seriously. Young Singaporean composer Tze Toh has been content to break that stereotypical mould, beginning as a jazz pianist and assimilating disparate influences of modern classical music, world music and popular idioms into his original compositions.
Land With No Sun (Terra Senza Sole) is an original audio-film, which he explained to mean absolute music accompanied by short films and visual images, performed in front of a live audience. Like in Debussy's piano preludes, where the titles were added after the fact, Tze's music takes on a programmatic slant, as if written to tell a story.
The scenario of the 70-minute-long concert, presented at the Esplanade Recital Studio on Thursday, is set in a dystopian future, when Earth is ravaged by war, over-population and over-building, with sky-cities and pollution that permanently block out the sun's rays. As extinction looms, collective memories are digitised and sent back in time as a cautionary messages. The 10 movements, each documenting a different year of degeneration, served as aural and visual snapshots of mankind's folly. Performing were Tze's ensemble - the Looking Glass Orchestra - of 10 musicians, all excellent soloists in their own right.
The Prologue was just film and recorded sound, playing in a loop as the audience entered the hall. The first movement proper, The Moment, saw soprano Felicia Teo singing the opening lines La Morta E Un Canto Ricordato Del Tempo (Death Is A Song Time Remembers) accompanied by Tze's piano. Italian was chosen for its operatic qualities instead of the more prosaic English, and the film music style of Ennio Morricone was relived.
Io Sono L'Aria (I Am The Air) was a ruminative plaint on Christina Zhou's violin, with the protagonist viewing a wilderness of concrete that replaces clouds in the sky. Much more pulsating and jazzy was Metropolis which brought together saxophonist Teo Boon Chye, who was the evening's busiest soloist, with Wong Wei Lung's drums, Luke Chng's cello and Masato Miyata's bass. This kinetically charged number had the backdrop of a faceless urban landscape viewed from a moving train.
Indian Carnatic violinist Lazar T. Sebastine brought his improvisatory raga skills to Ray / Water, a movement of grace and fluidity portraying a manta ray wandering freely for the last time. Bassoonist Christoph Wichert functioned on more classical lines; placidity in the bleak wintry clime of Snowman was contrasted with violently lurching ostinatos in Factory Dance, an indictment on rapid industrialisation. Violist Tomoko Kakegawa blended prettily with Zhou in Flower, a sad and nostalgic look at Nature, which was symbolically shattered like glass petals on film.
Tze as a composer is resourceful and possessed with an original voice, yet he was unafraid to invoke the skills of Hungarian composer Bela Bartok in Desert, where a quasi-Middle Eastern dance is hammered out with raw and primal vigour. The penultimate movement Time Travel provided a grand gesture for nine instrumentalists working together for the first time. Brimming with energy and vitality, was this a signal of a new hope for man, or merely the mirage of history repeating itself in futile cycles?
The very short finale Oscurita / The Moment II - which brought back soprano Teo as The Weeping Goddess, accompanied by just three string players - provided the clue. It served as a requiem for our lost civilisation, an abrupt full-stop which we can only hope to prevent. Despite the small audience, Land With No Sun was accorded a standing ovation, a sure sign that right and timely messages will not fall on deaf ears.
Land with NO SUN: Promemoria
25th May 2015, Esplanade recital studio
(Extracted from The Strait Times article, LAND WITH NO SUN: PROMEMOR1A / Tze Toh et al / Review, by Chang Tou Liang, 26th May 2015)
Land With No Sun is a continuing series of concerts by local composer-pianist Tze Toh and his Looking Glass Orchestra, inspired by his environmental concerns about the world we live in and its bleak future. He envisages a post-apocalyptic dystopia where the earth becomes unliveable and floating cities are built in the sky, which eventually block out the sun's rays. Mankind fights against time to chart memories which are sent back in time as warnings to past generations.
Promemoria was the sequel to Tze's first concert and took the form of a solo piano recital aided by pre-recorded tracks (referred to as sound design) and two violinists, Christina Zhou and Gabriel Lee. For those unfamiliar with his work, Tze is a largely self-taught and extraordinary musician whose idiom straddles comfortable between genres of classical, jazz, world and film music. His eclecticism is not applied in a haphazard or cut-and-paste manner, but through well thought-out and seamless musical scenarios.
LAND with NO SUN II : Dance of the Earth
27th February 2016, Esplanade recital studio
Taking place at Esplanade recital studio on 27th February 2016, LAND with NO SUN II: Dance of the Earth is an immersive audio-film concert which combines video/animation, sound design and live fusion music, performed by the groundbreaking TO ensemble and its contemporary orchestra.
A third world war in the distant future had devastated the Earth's surface and forced humanity to rebuild their civilization in the heavens. A girl born in the sky-cities sees a whale for the first time in a hologram, and begins to wonder if life still existed on the world below. She escapes to the surface in search of answers, and unexpectedly journeys through humanity's past, present and future.

Original music, orchestration and story by award-winning composer Tze Toh, featuring soloists Lazar T.Sebastine (Indian violin), Boon Chye Teo (saxophone), Christina Zhou (violin), Shing Min Yap (soprano), Wei Lung Wong (drums).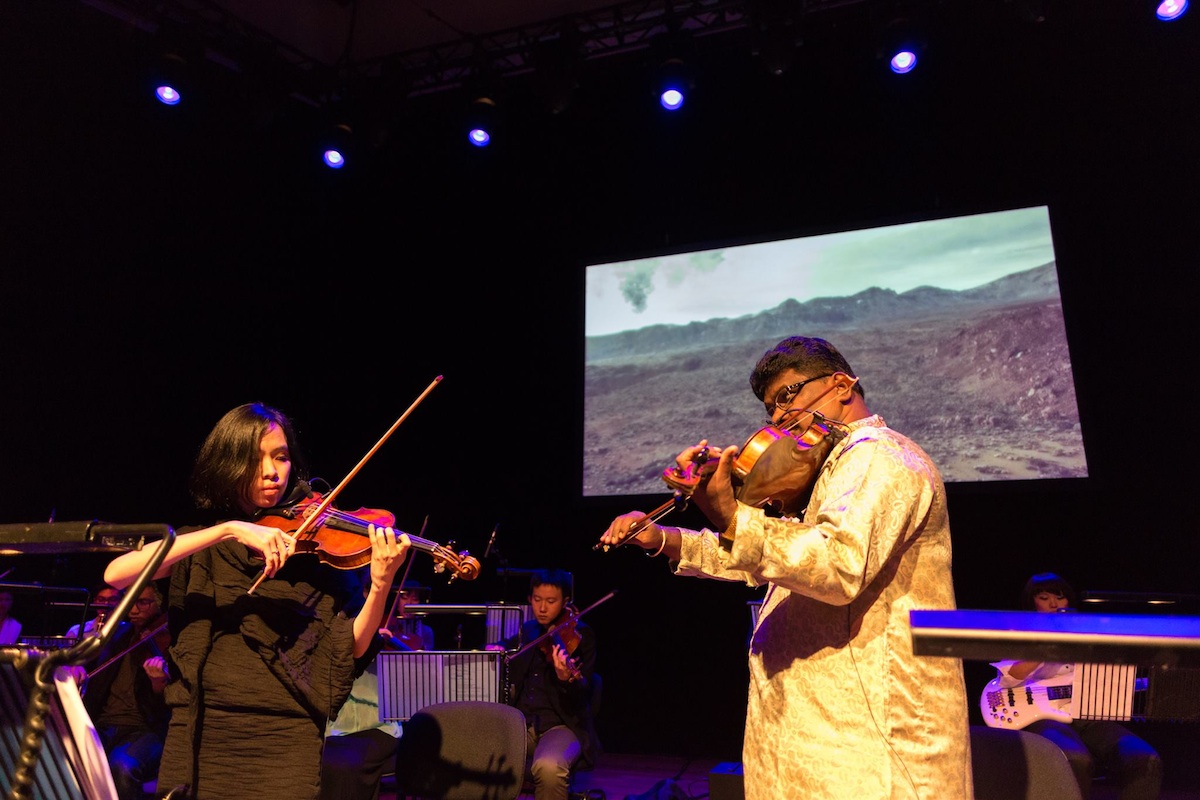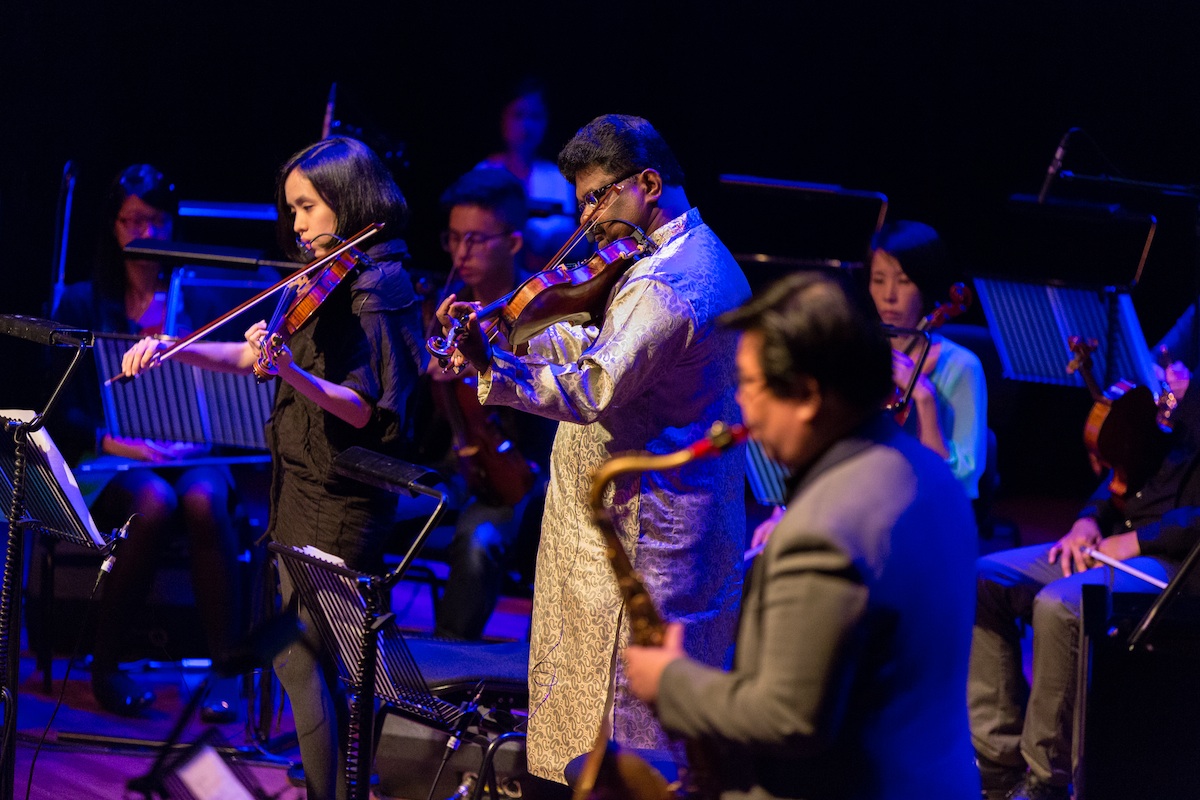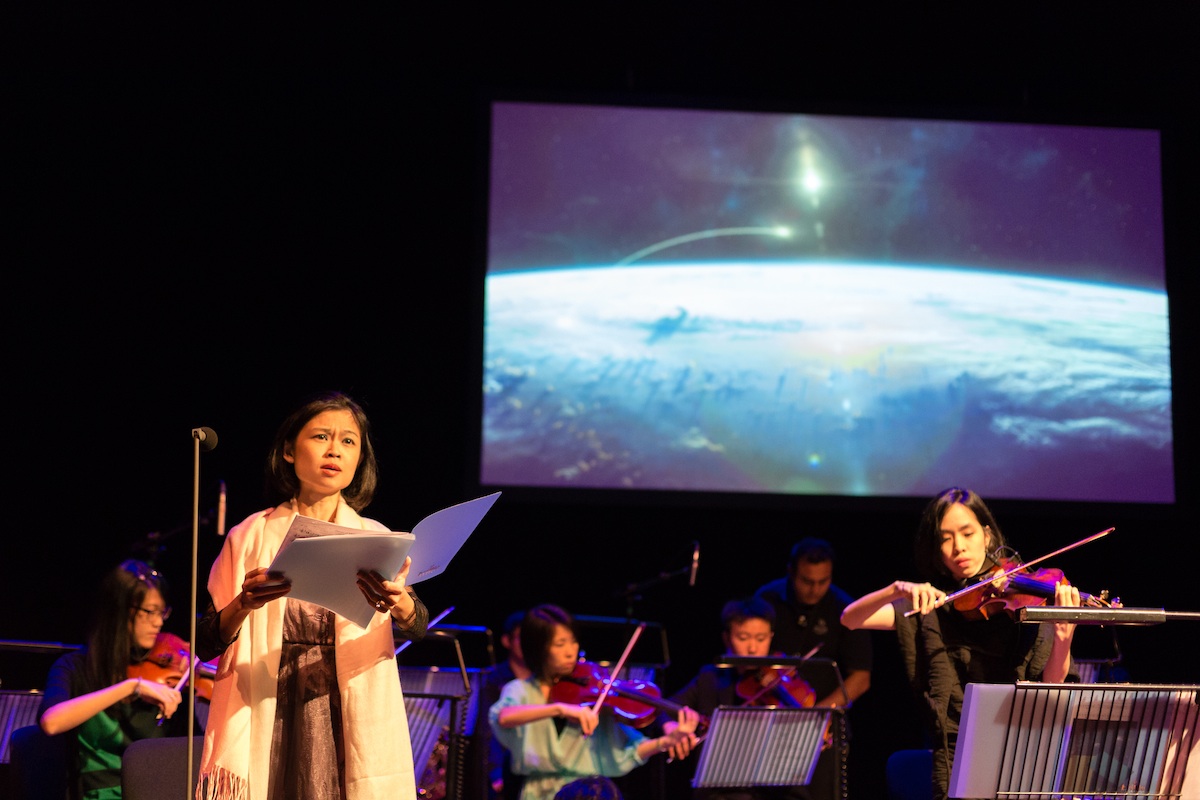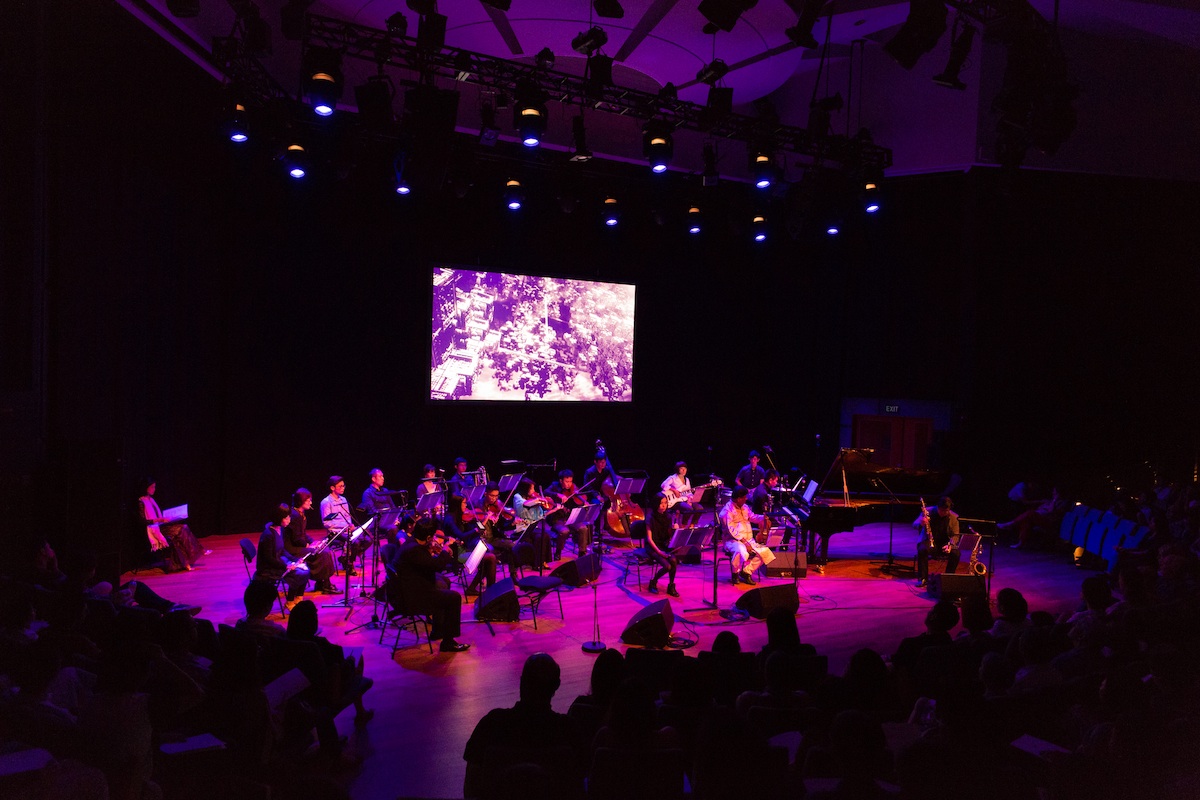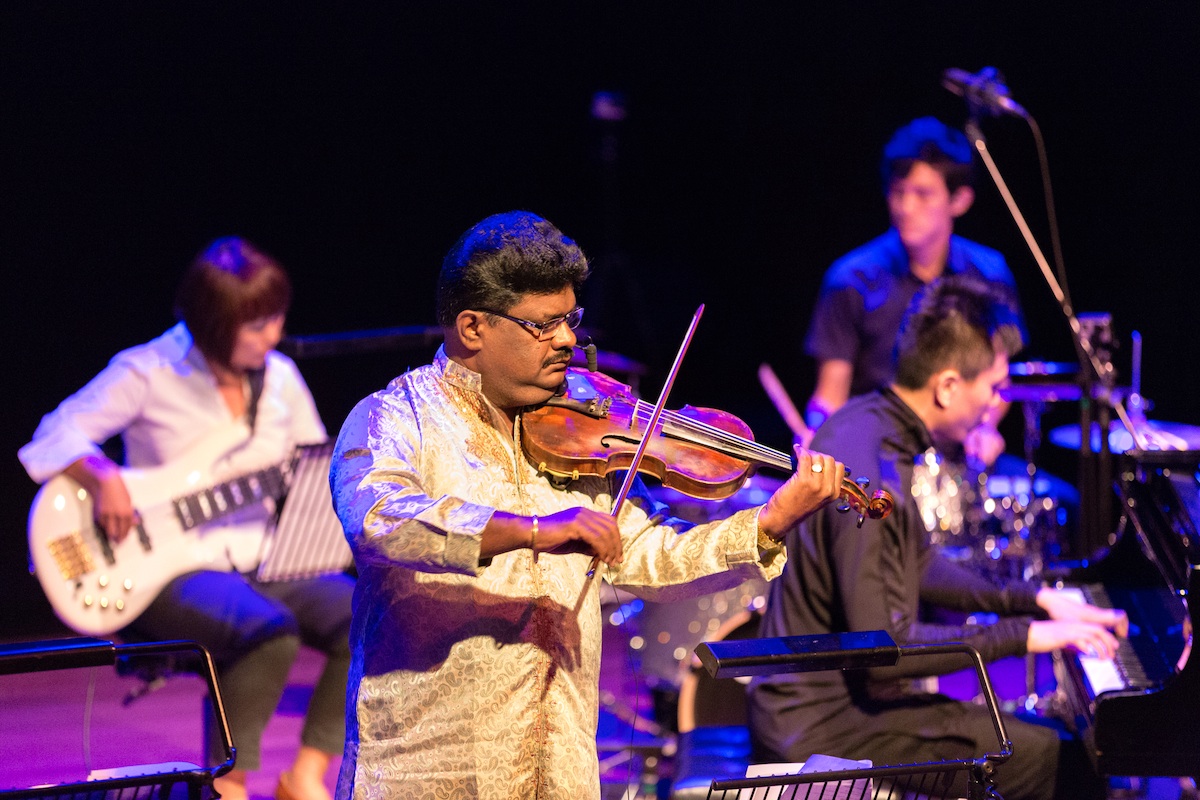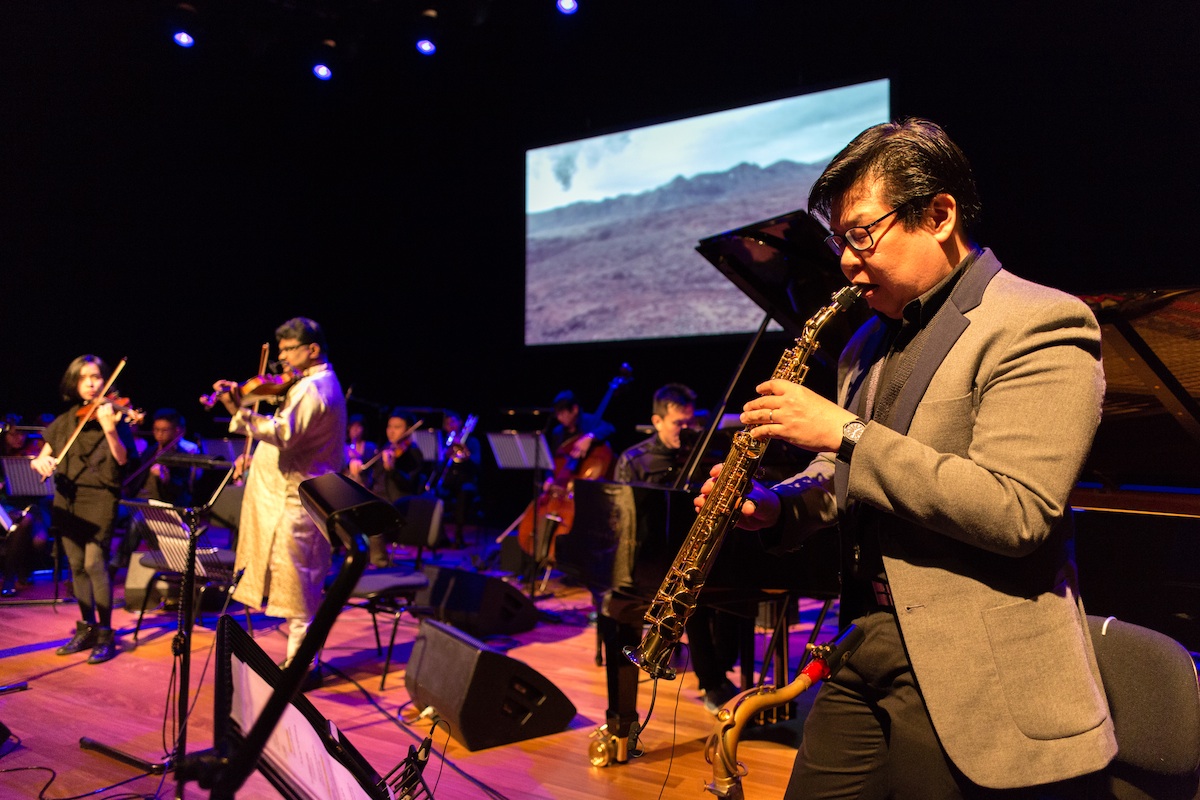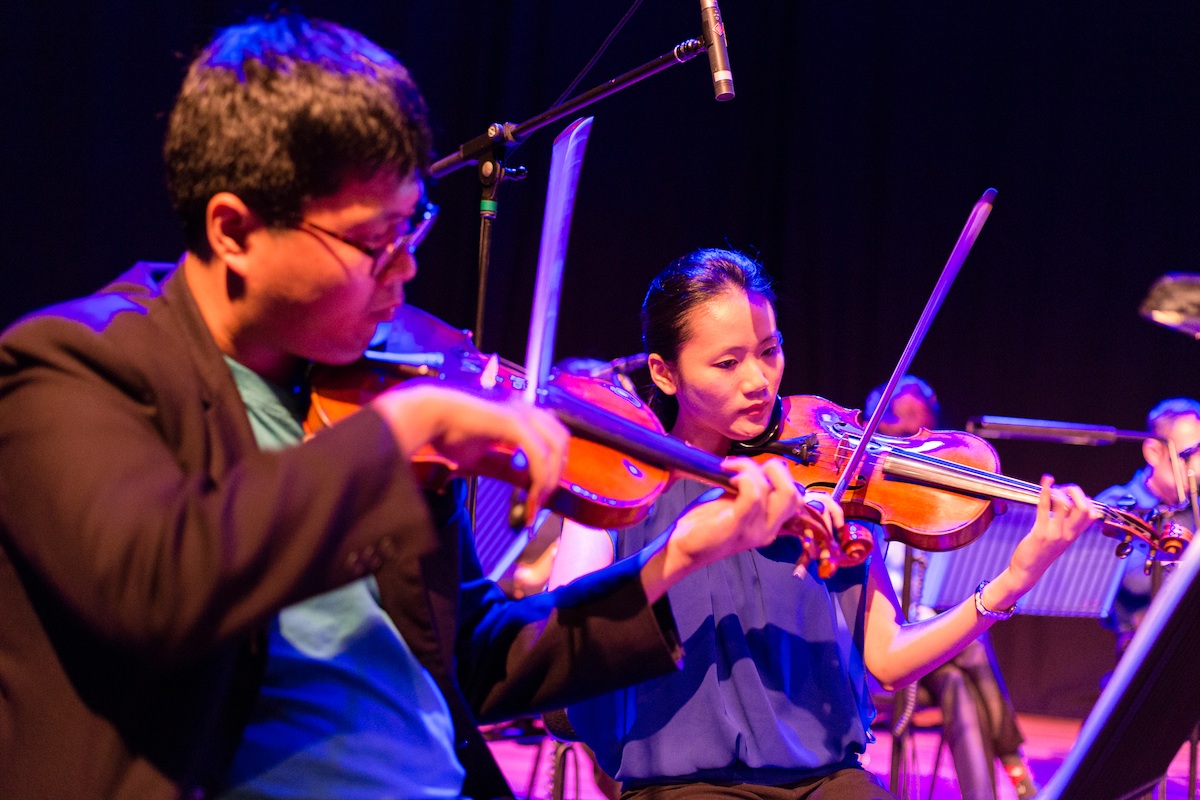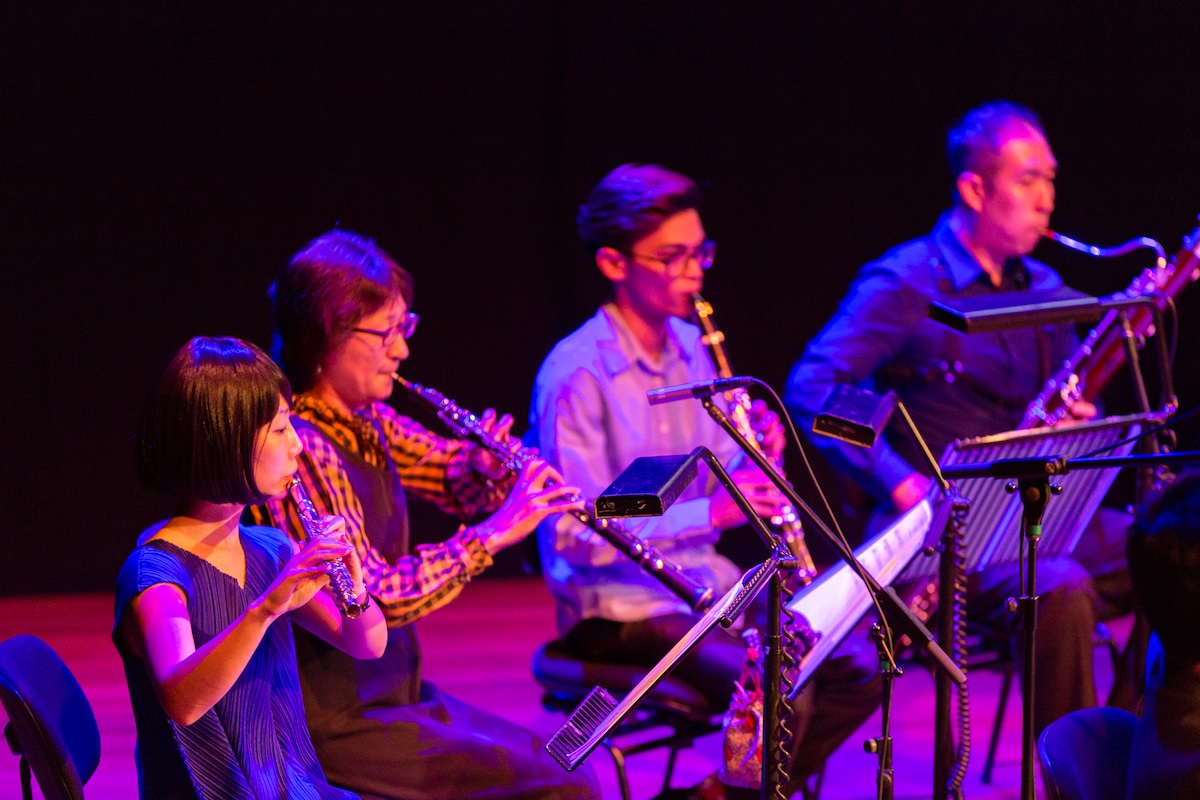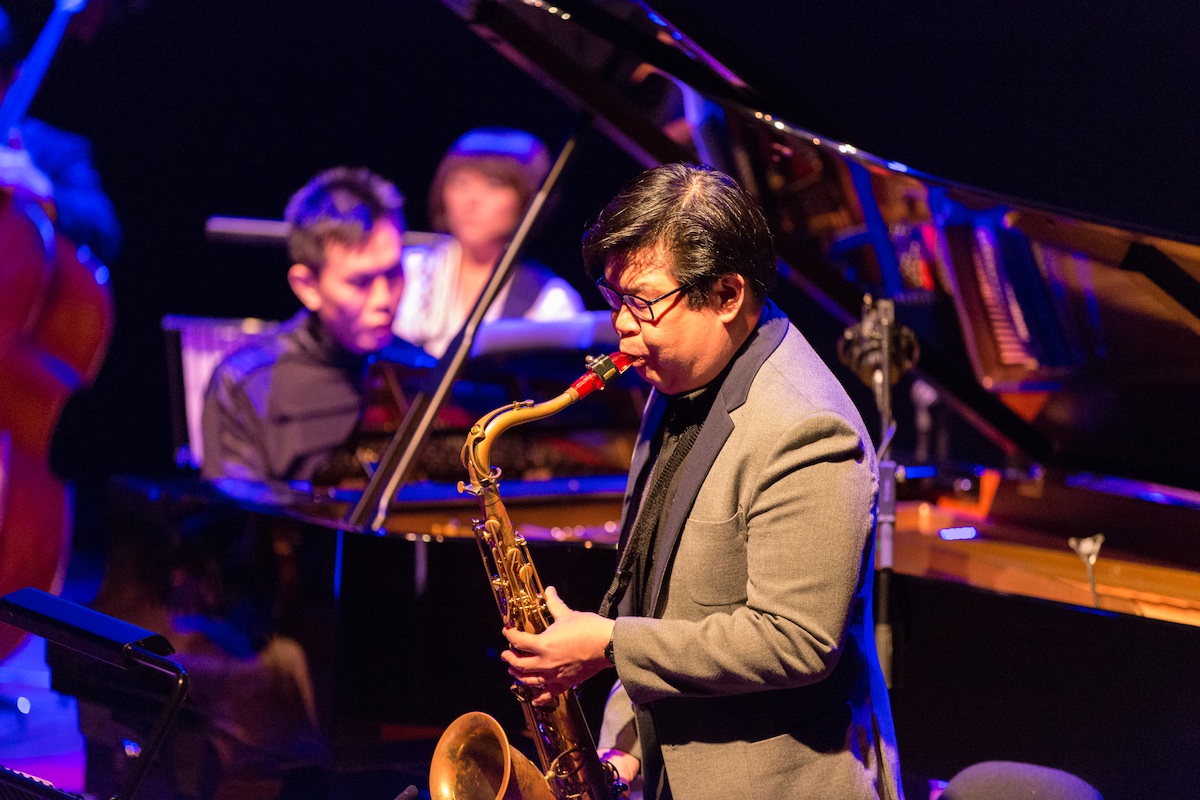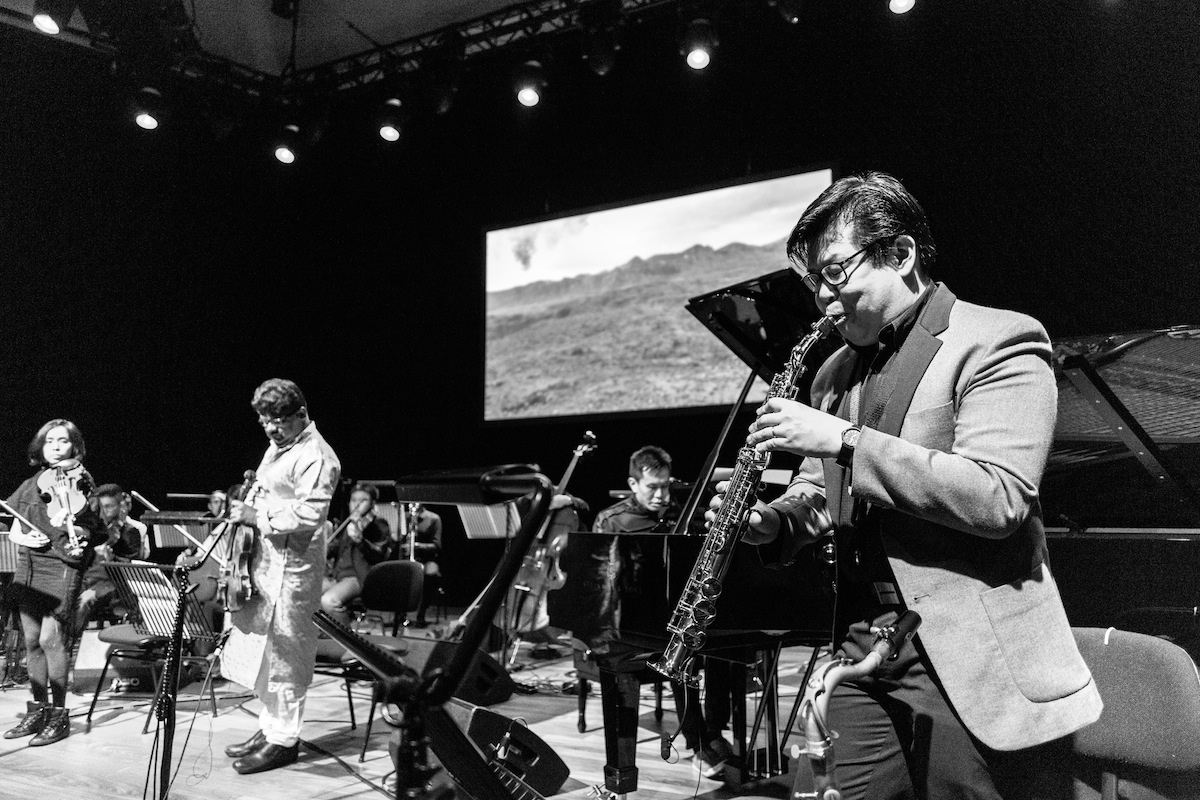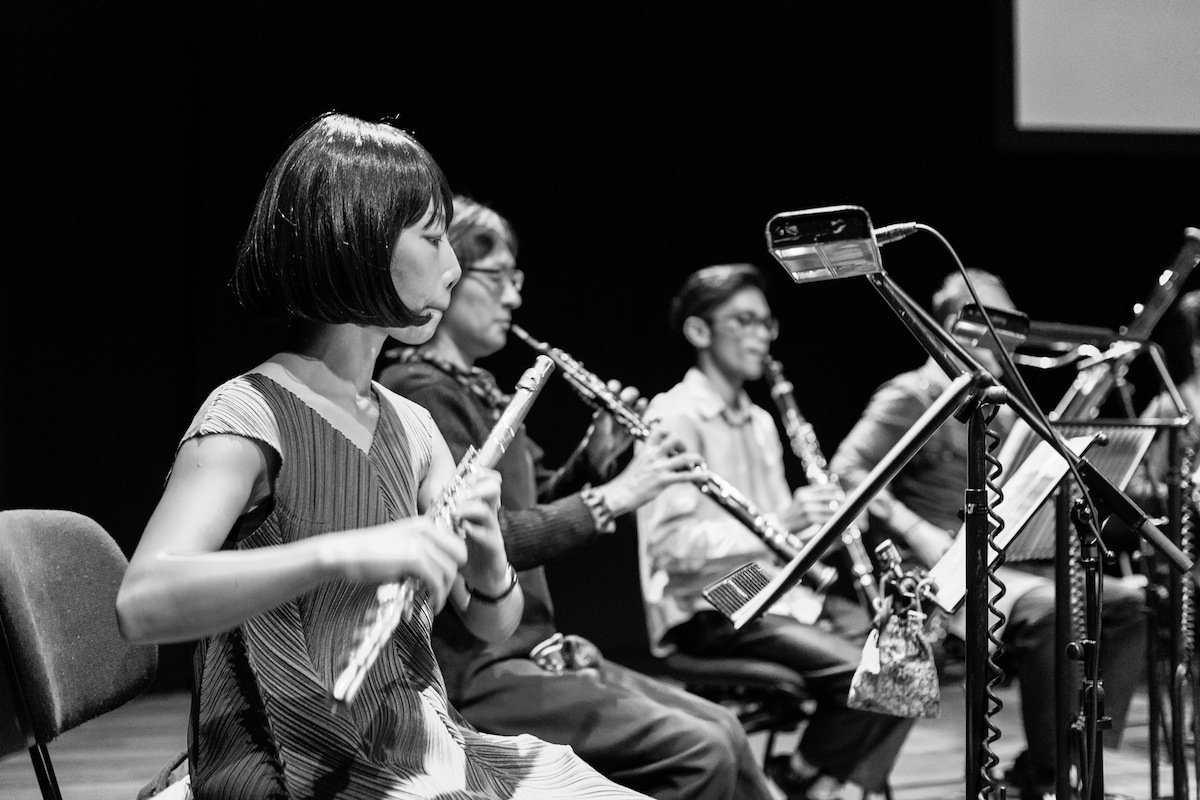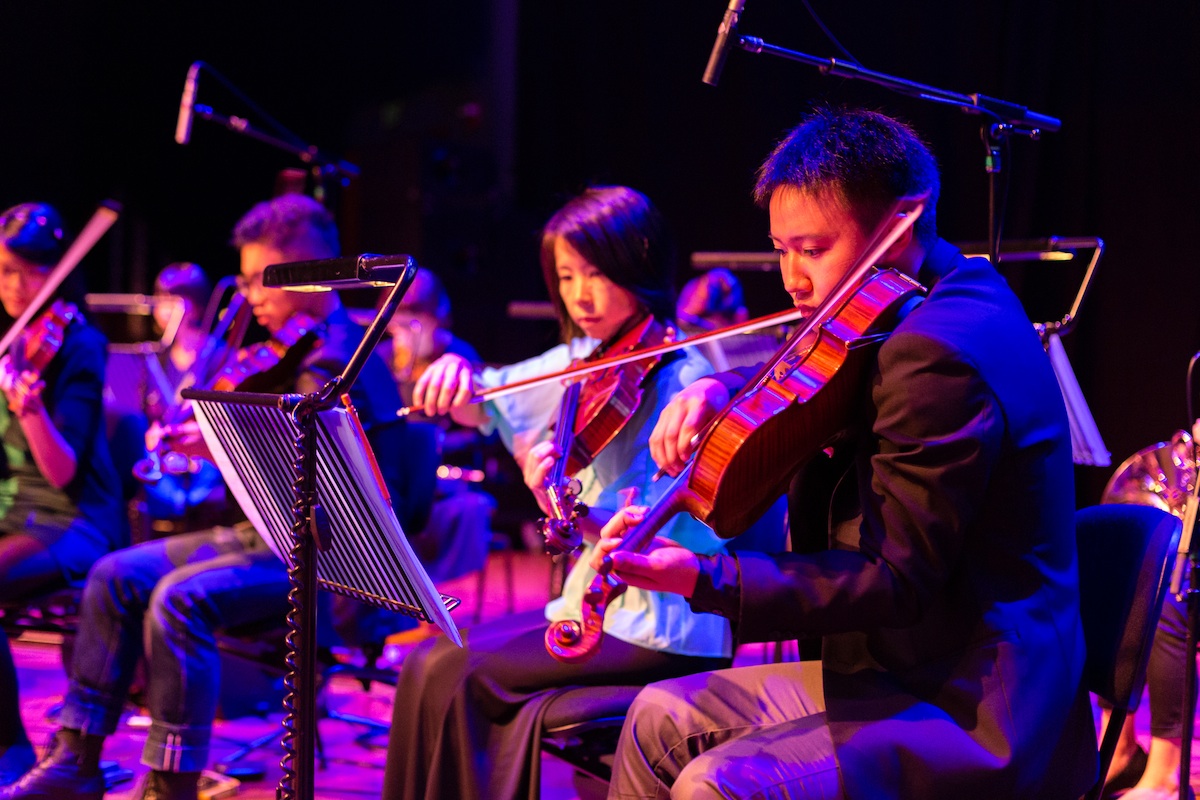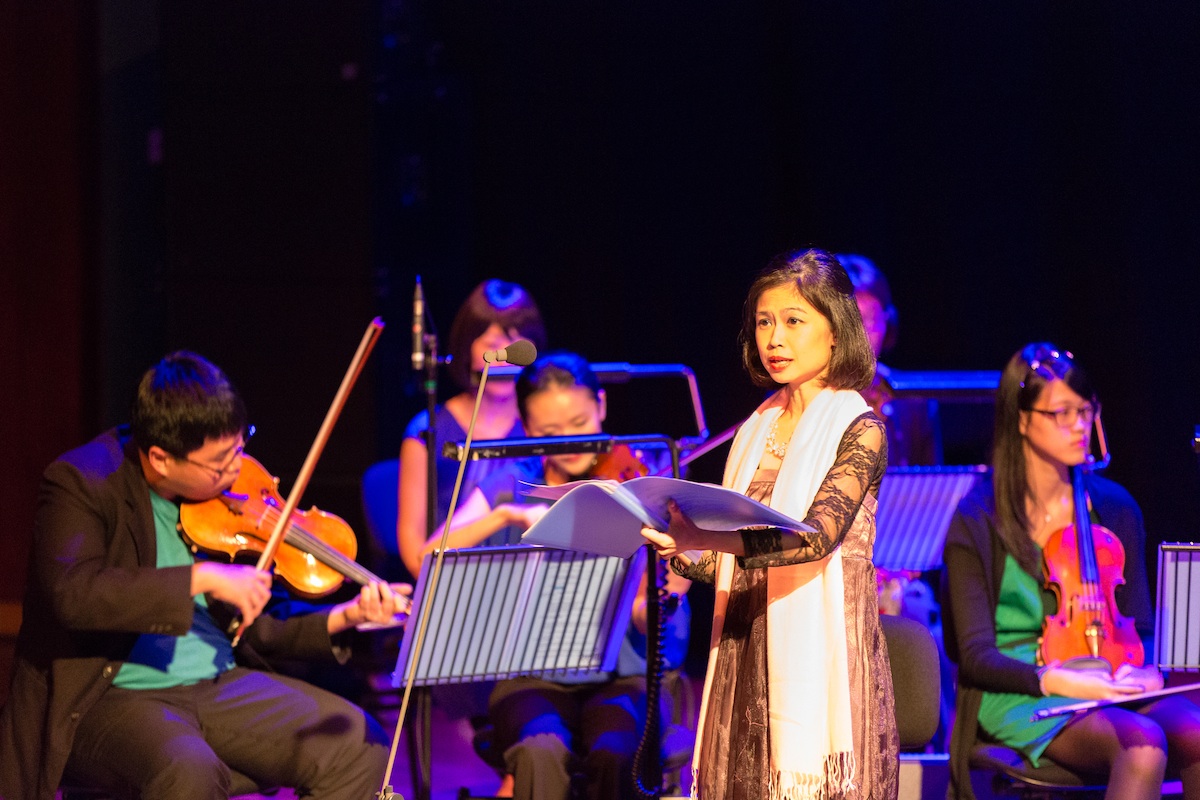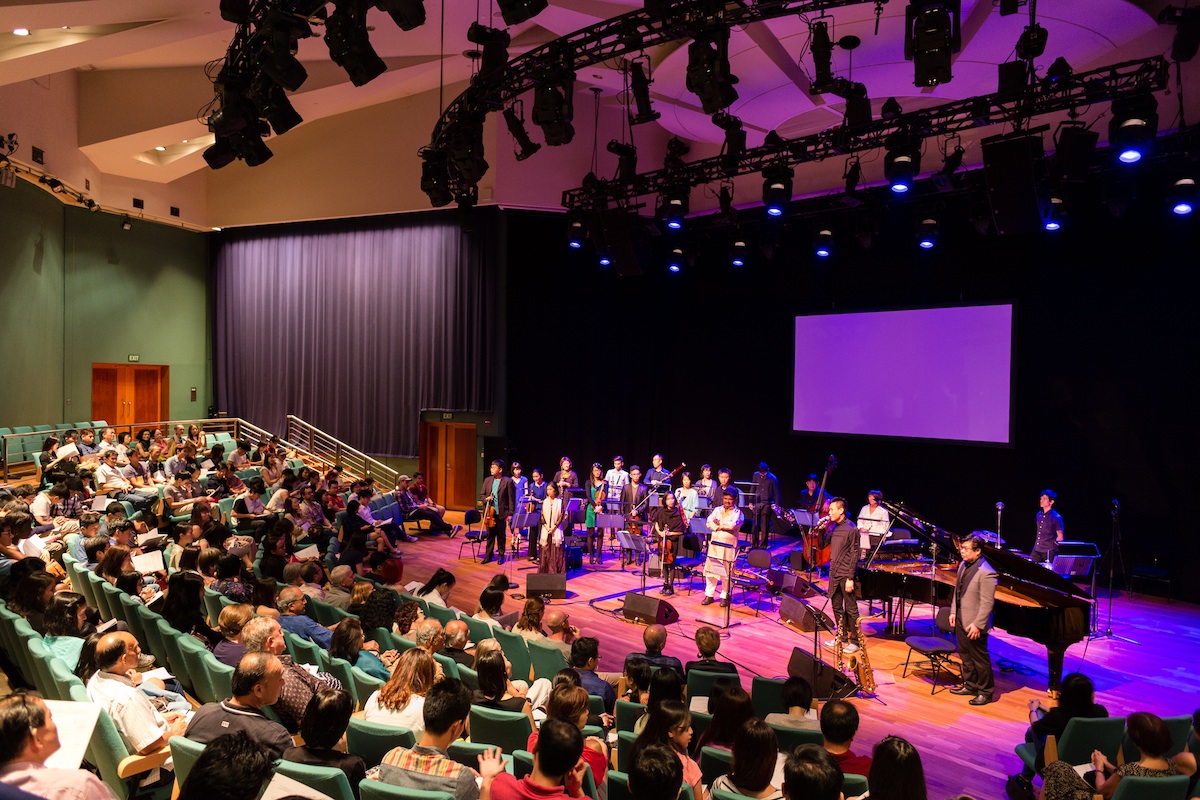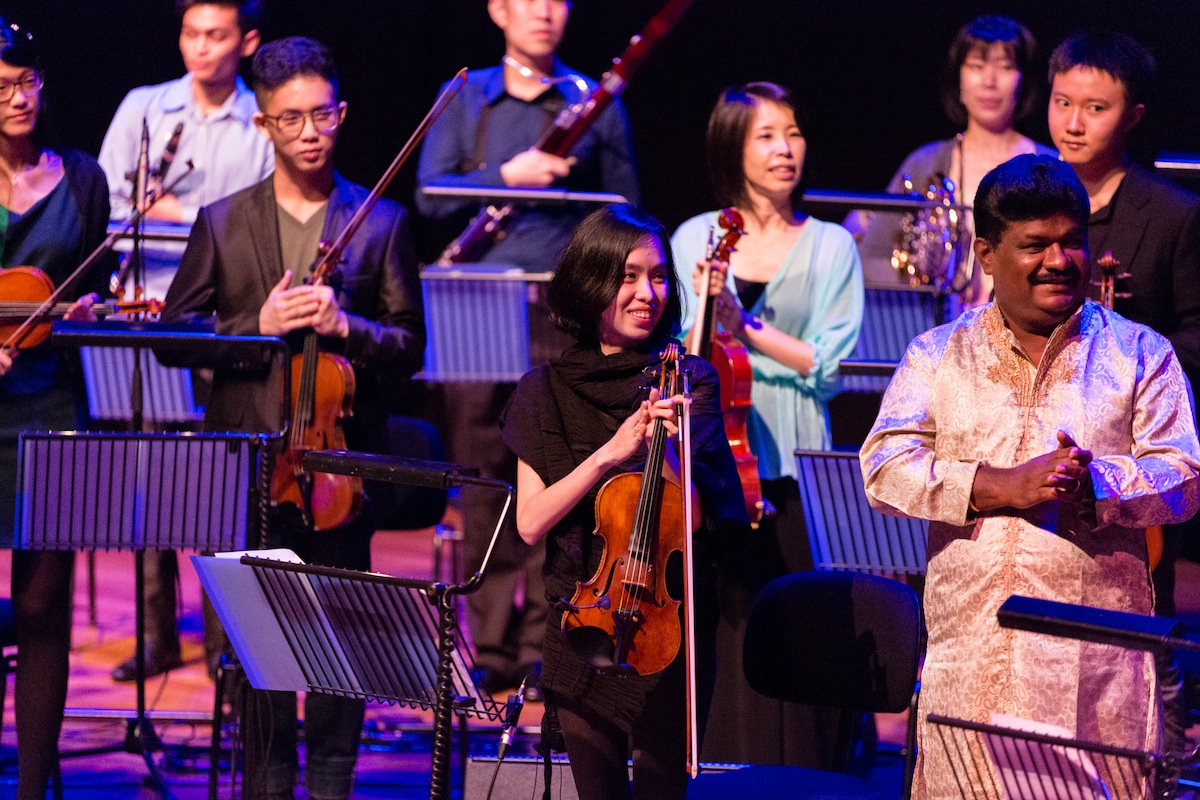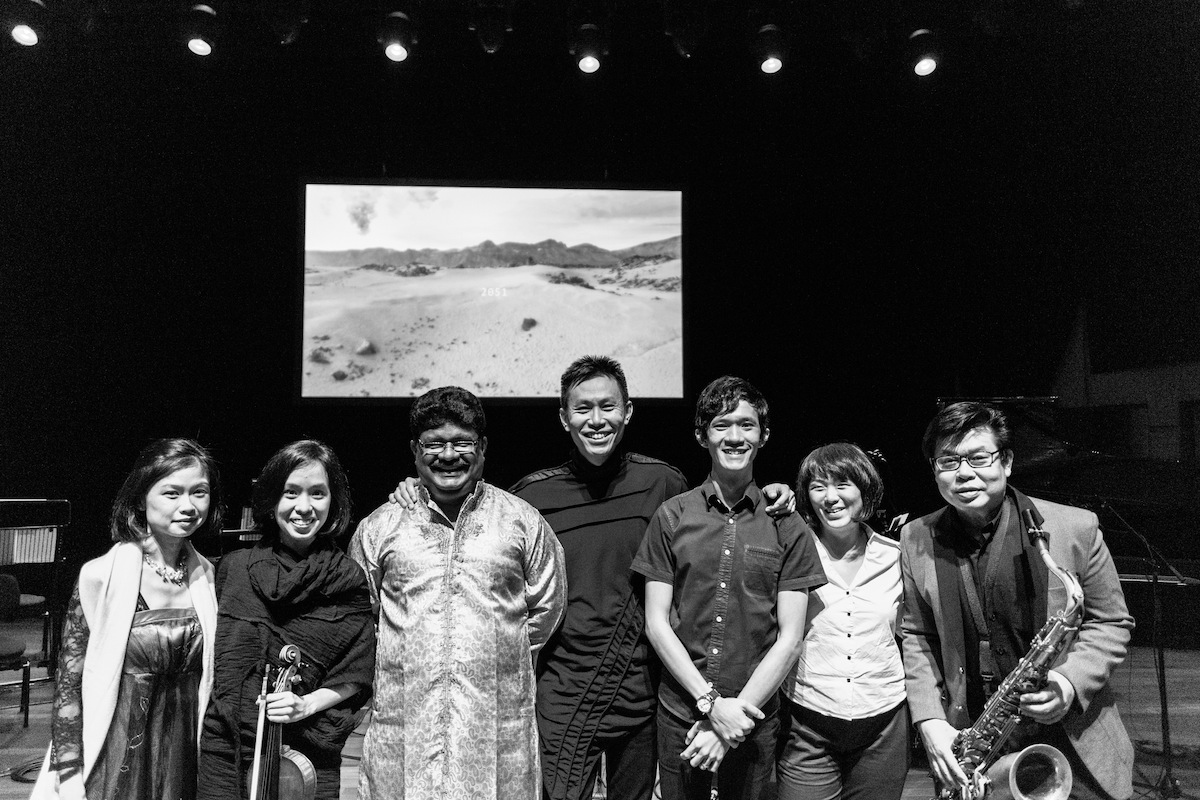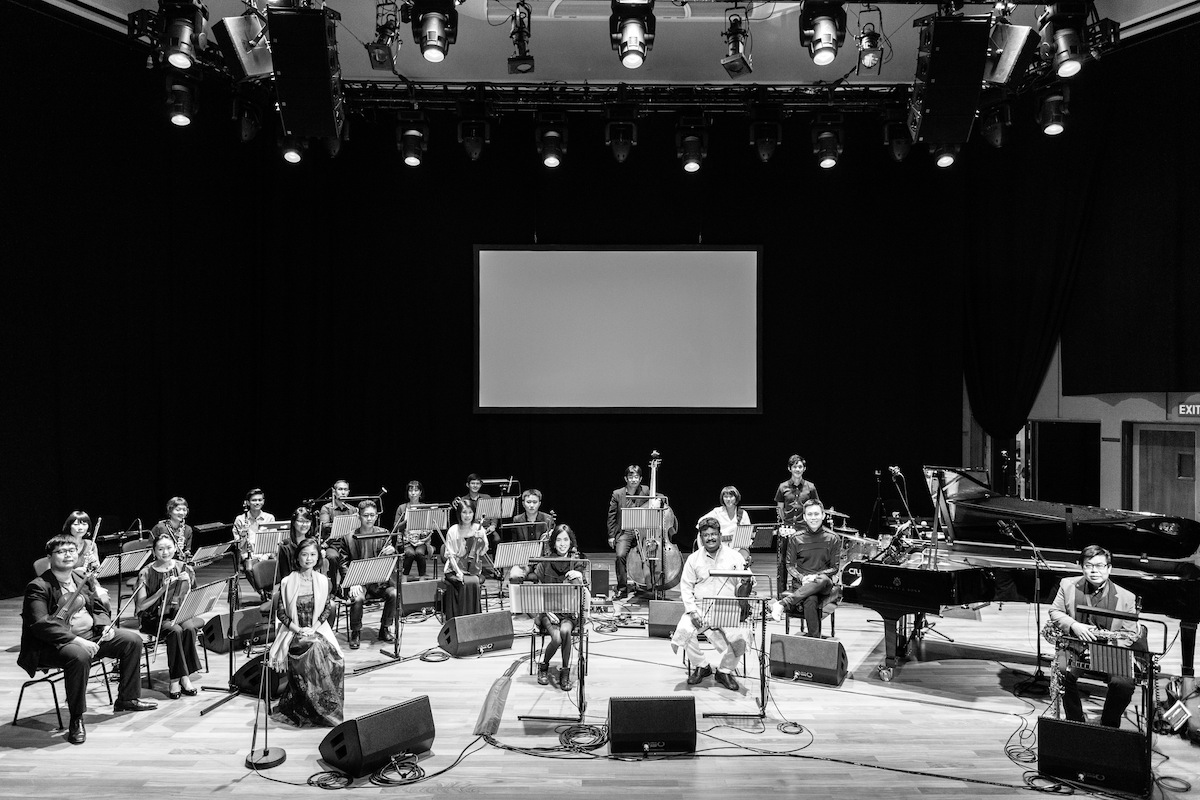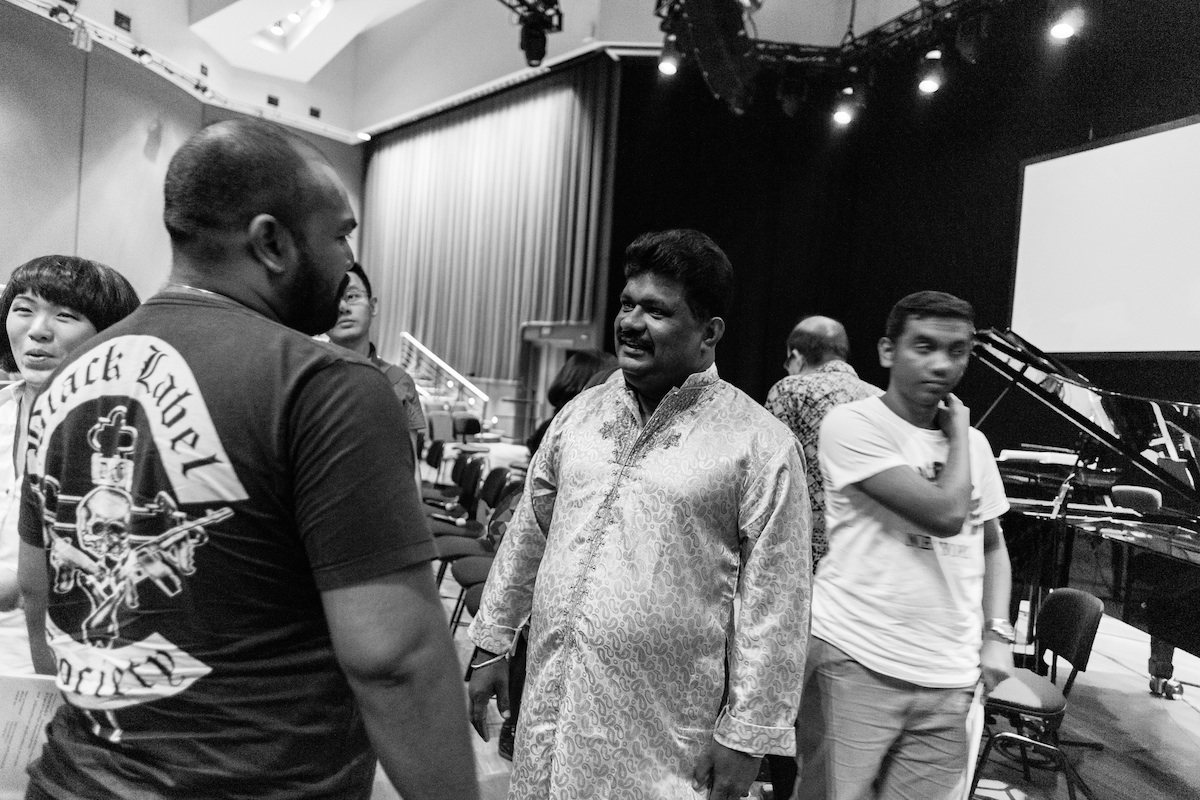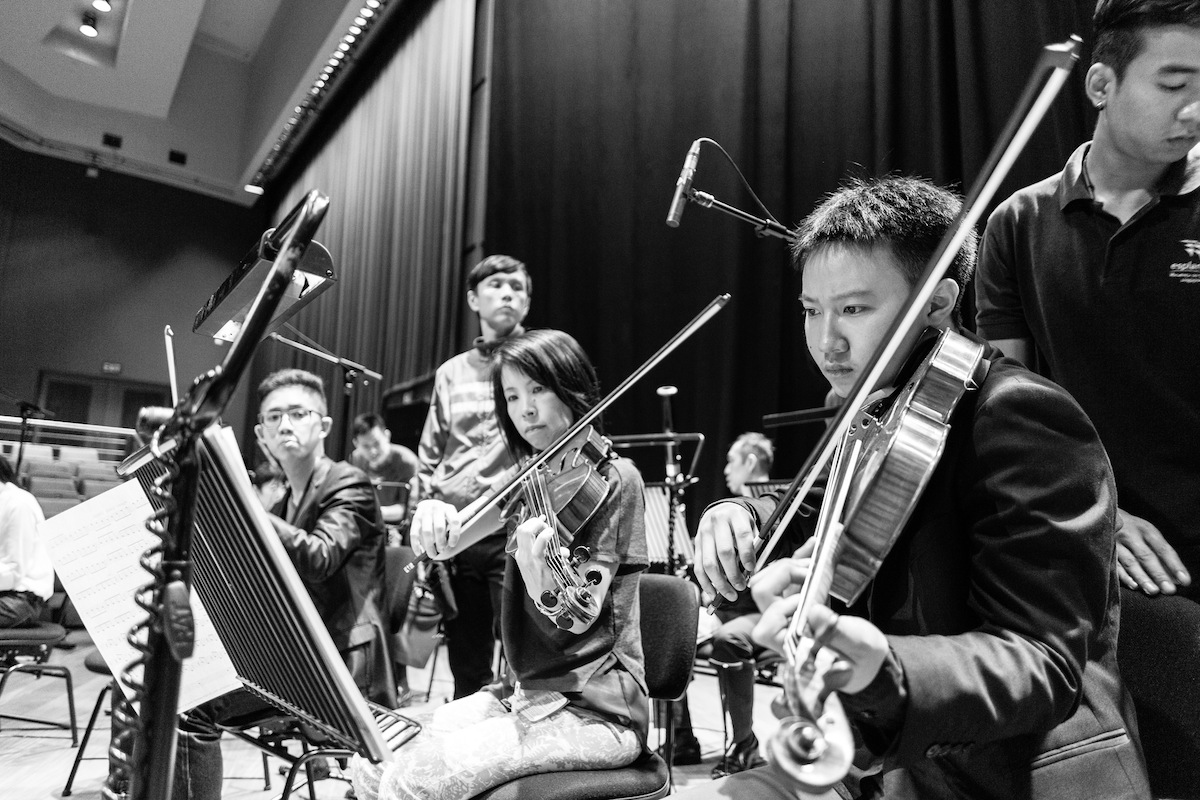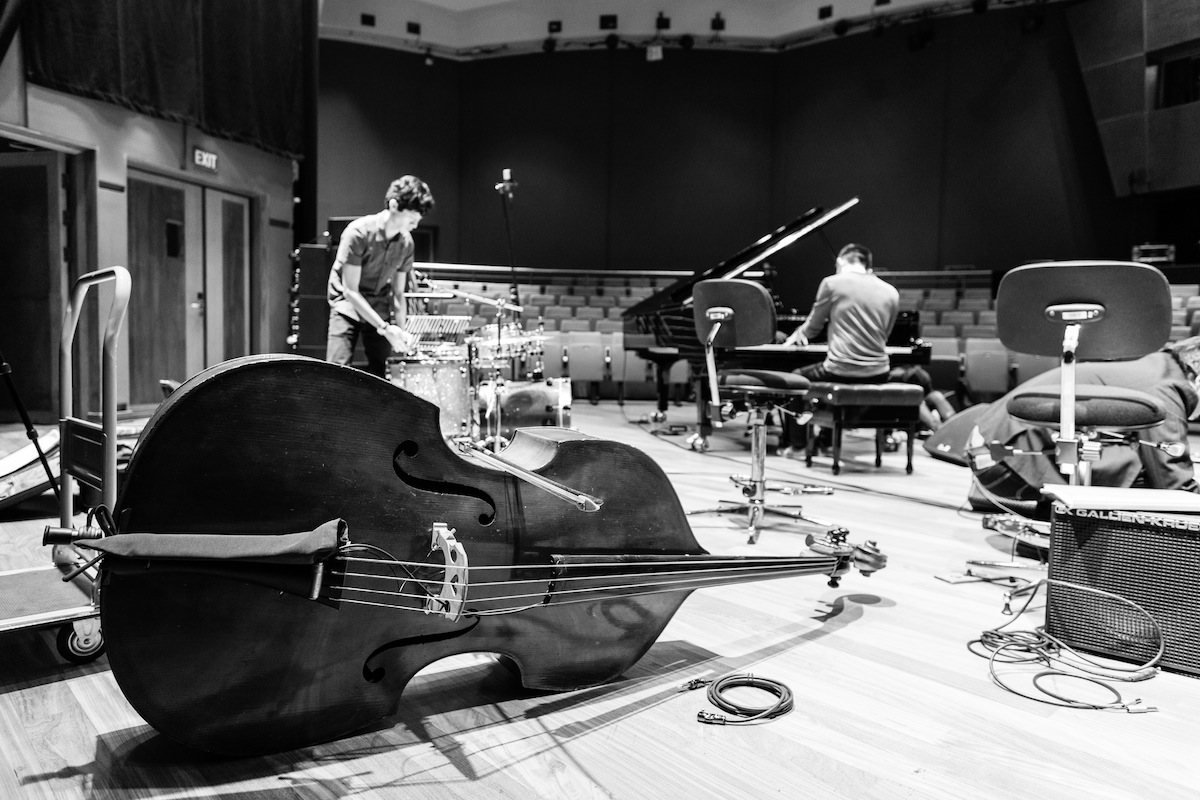 concert Alternate Worlds II
20th August 2016, Esplanade recital studio
Following the first Alternate Worlds concert's sold out success which was lauded for its originality and winning much praise from audiences of all ages, Alternate Worlds II / もうひとつの世界2 is released as the second installment of TO ensemble's unique concert series Alternate Worlds which explore new worlds of music.
Alternate Worlds is also a platform to feature upcoming musicians, soloists and young talents – it is one of TO ensemble's main programs dedicated to development of the local music scene, while exploring, experimenting with new music.

Alternate Worlds II features TO ensemble musicians Indian violinist Lazar T.Sebastine, saxphonist Teo Boon Chye, pianist Tze Toh, violinist Christina Zhou, violist Benjamin Wong, oboist Bernice Lee and flautist Yukari Usui, as well as guest musicians tenor Jonathan Charles Tay, violinist Gabriel Lee, cellist Ryan Sim. The performance will also showcase young talents Taiwanese singer-songwriter Shoie Su and soprano Lauren Yeo.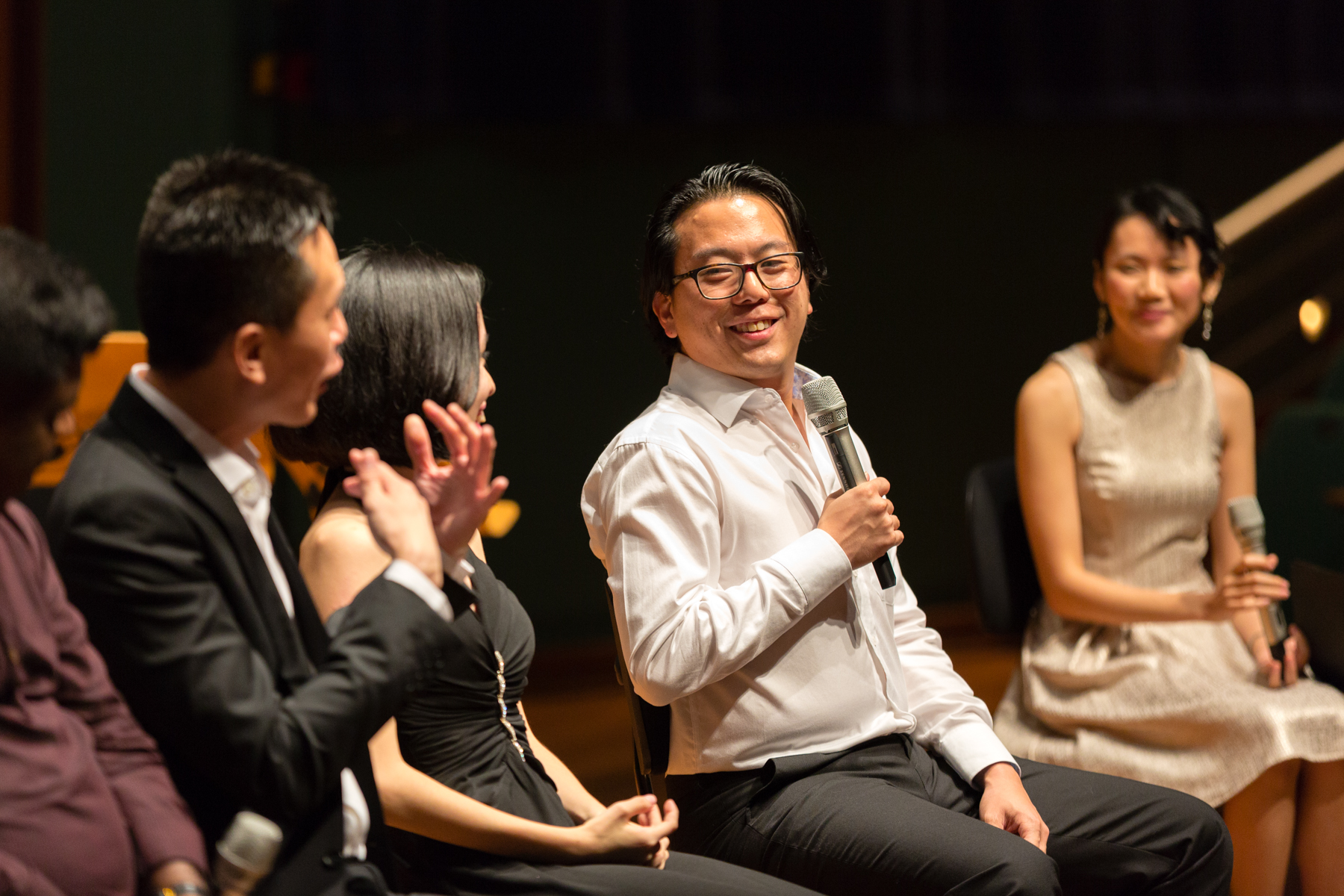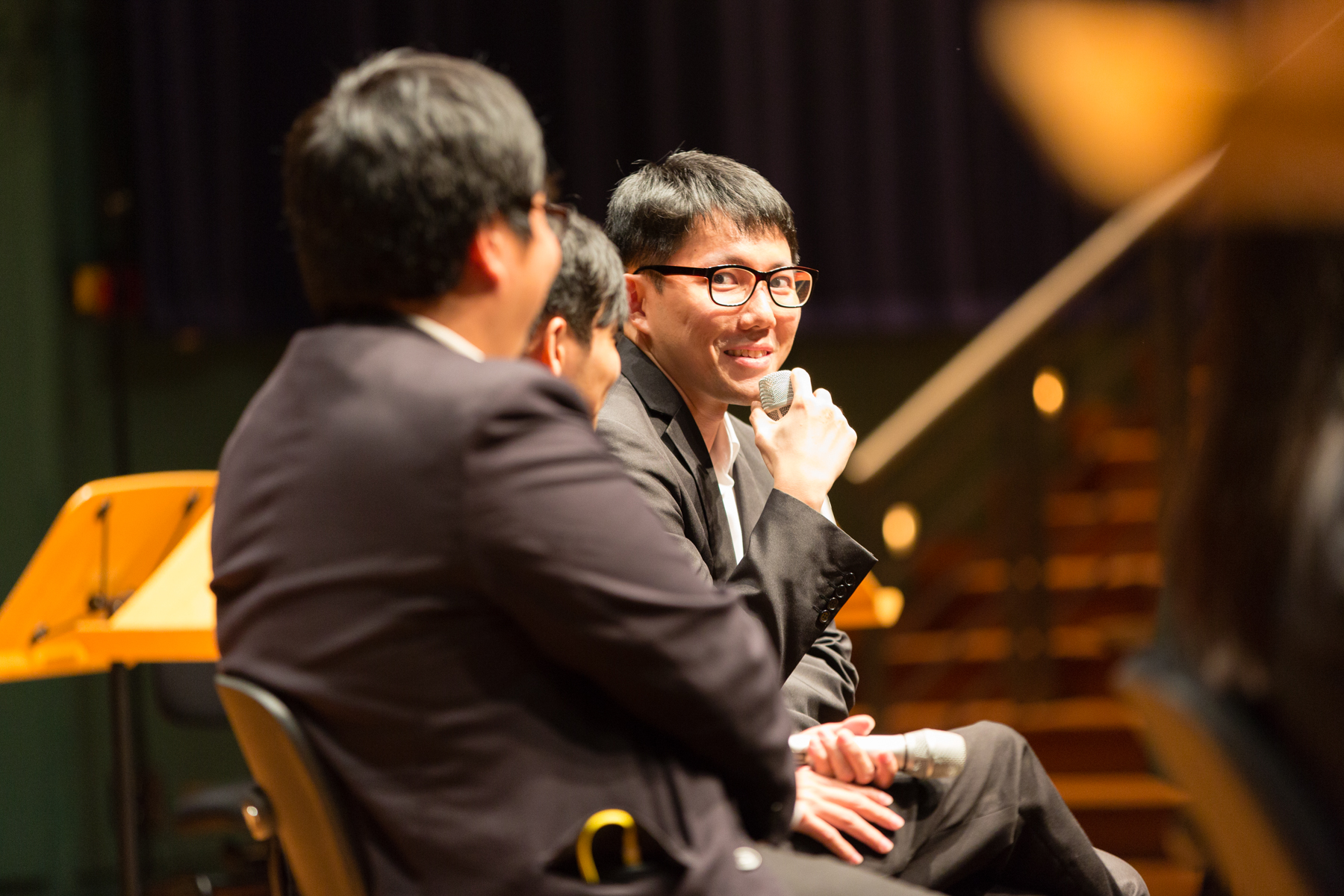 Collaboration with Toyota
26th August 2016
"The Promise", the Toyota safety video we recorded original score in August 2016 has reached 1.8 million views on YouTube!
Original score composed by our music director/composer Tze Toh, and solos recorded by Christina Zhou (violin) and Benjamin Wong (viola), with additional strings by Martin Peh (violin).
Singapore International Festival of Music
Concert... And there was Noth1ng
16th October 2016, The Arts House
(Extracted from The Strait Times article, Unique brand of crossover-jazz, by Dr. Chang Tou Liang, 18th October 2016)
Trust locally trained and mostly self-taught composer and jazz- cum-crossover pianist Tze Toh to come up with yet another post- apocalyptic and end-of-days scenario to spice up his latest concert.
Having gained a certain notoriety from his Land With No Sun series of concerts, his most recent offering, ...And There Was Nothing, had as its backdrop another science fiction-inspired story involving cosmology, eschatology and artificial intelligence.
To the casual concertgoer, all this might come across as mumbo jumbo, but it was merely an elaborate front for an unusual piano quintet that was in effect a 10-movement modern jazz symphony. For this concert, the ensemble was deliberately pared down to involve only five soloists (including Toh on the piano) and with no accompanying ripieno group.
This spareness worked to its advantage, as the sound of each instrument became more transparent. Christina Zhou's violin contrasted with the lower tones of Benjamin Wong's viola, both playing the traditional classical string parts. The main leitmotifs and themes for the work was cast in G minor, which accommodated Lazar Sebastine's Carnatic violin that had a more ornamental role.
Teo Boon Chye's saxophone was the leading star and he opened in Earth, the first chapter. His was a dark and dusky tone, one which experimented with atonal lines at the outset, but ultimately reverted to more familiar tonalities.
The first four chapters were oppressive in mood, as if portending a bleak fate for the planet and mankind, but in Chapter Five: Beginning/ Pan Gu, the atmosphere finally lightened. Sebastine turned percussionist, swopping his violin for a drum, over which Teo's saxophone and Wong's viola soared unimpeded in this most exuberant movement.
Toh was ever conscious that the textures of each instrument were to be clearly differentiated. In Chapter Six, which had seven separate titles, a drone from the viola contrasted with caterwauling from the violin, while the next chapter saw both instruments in a tender duet. Elsewhere, the Western violin and Indian violin, both operating on different scales, duelled for primacy.
The Seventh to Ninth Chapters had no titles, except for question marks. Here the future of life on earth was being pondered; are we doomed or will we be saved?
Chapter Eight saw all five soloists thick in action and the ancient concerto grosso of the Baroque period was all but being relived.
By now, most would have been totally confused by the narrative of the work, but the Tenth and final chapter (no question marks and deliberately left blank) was to prove a watershed. Gloomy and troubling G minor had morphed into a reassuring G major at the end, thus suggesting salvation at hand.
To Ensemble's audience was a small but receptive one, and given Toh's zeal in proselytising his unique brand of crossover-jazz- world music, this should change sooner than later.
LAND with NO SUN III : Song of the Skies
3rd March 2017, Esplanade recital studio
TO ensemble presents an audio-film concert of a story of hope in a post-apocalypse future world, where a third world war had devastated the Earth's surface and forced humanity to rebuild their civilization in the heavens in the form of massive sky-cities. In this new world, Man has given up on nature, and turned to technology for salvation.
In Song of the Skies, a young violinist who survived the end of the world sees a beautiful meteor shower and makes a wish for a better future. She learns from an elder that the shooting stars are not what they seem – they are actually space debris burning up as they fell to Earth. She then witnesses one of the "meteors" fall to the surface. Eager to salvage the junk, she journeys to the crash site where she comes into contact with a mysterious ancient alien race known as The Messengers, who have witnessed Man's time on Earth since the beginning. Their encounter would forever alter the path of humanity.
This concert/audio-film is a reflection of Man's deep impact on the natural environment, brought about by his relentless consumption of material goods and the resultant accumulation of waste.
Featuring original music, story by award-winning composer Tze Toh, combining choral music, jazz, film score, classical music, and Indian music, sound design with video/animation, with TO ensemble soloists Christina Zhou (violin), Teo Boon Chye (sax), Lazar T.Sebastine (Indian violin), Jonathan Charles Tay (tenor voice), Wendy Phua (e.bass), members of SIM GE Esprimere singing club including Sara Nicole Tan, Jeremy Chua, Min Jia Chan, this concert promises to be an exhilarating blend of technology, art and musical expression.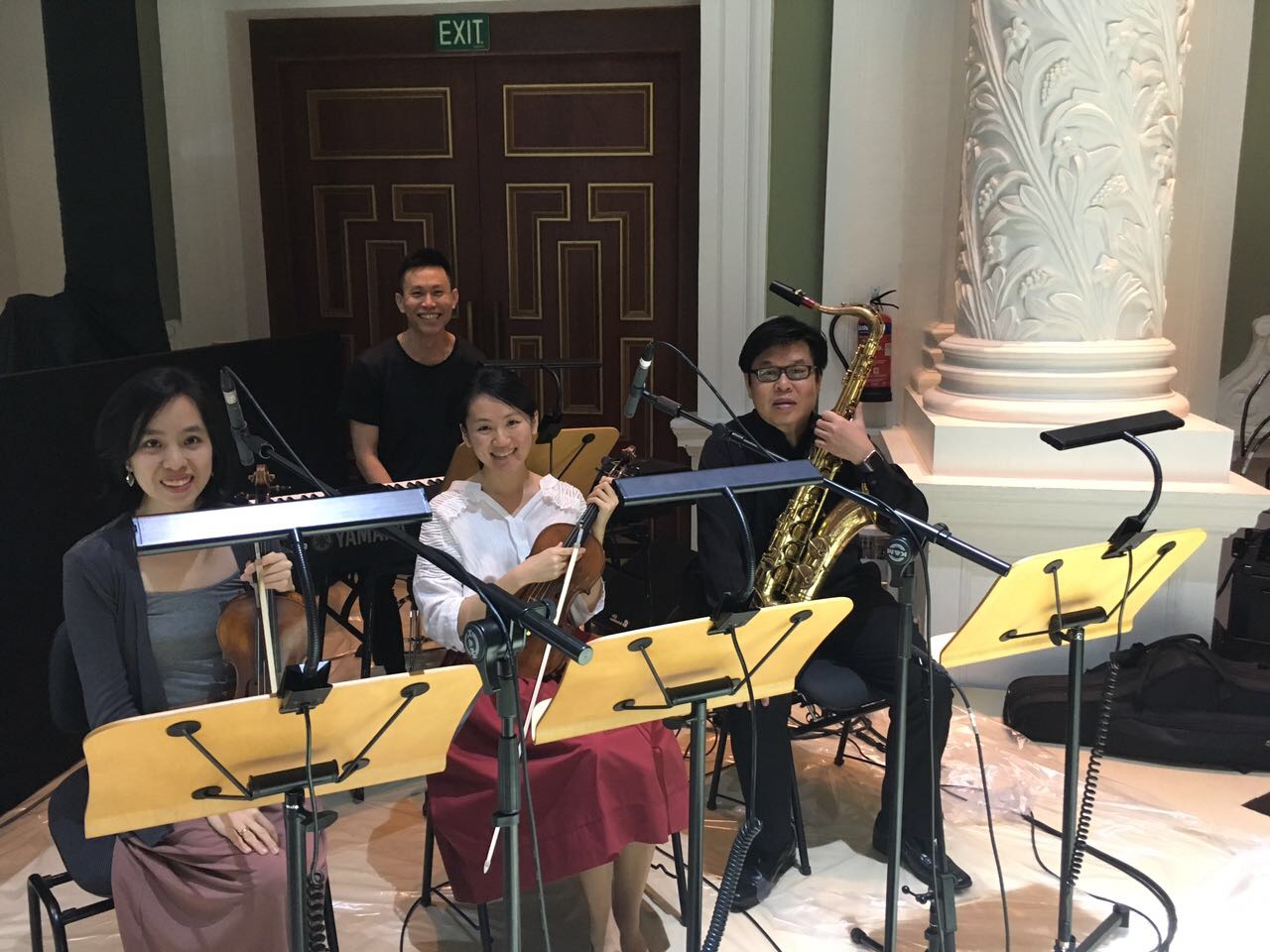 Cartier: Women's Initiative Awards 2017
12 April 2017 I Victoria concert hall
TO ensemble performed music composed by Tze Toh for the Cartier Women's Initiative Awards ceremony, featuring Loraine Muthiah (organ), Tze Toh (piano), Teo Boon Chye (sax), Christina Zhou (violin) and Pearl Yim (violin).
Singapore Heritage Festival 2017
13 May 2017 I Asian Civilization Museum
TO ensemble presented an original collection of short music stories inspired by the life of Sir Stamford Raffles and the Singapore River titled - The River, the vessel and the Lion-heart. Composed by Tze Toh for the festival, it is performed by Jonathan Charles Tay (tenor), Teo Boon Chye (sax), Tze (piano) and May Loh (viola).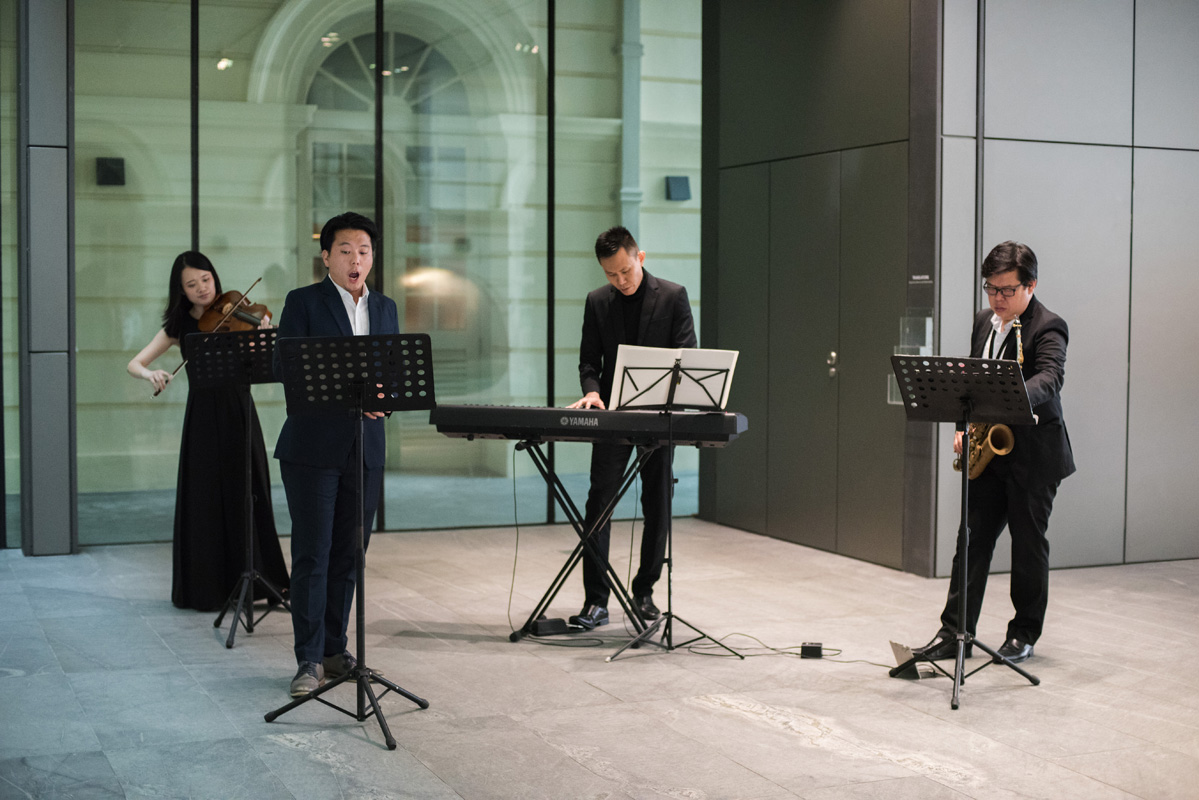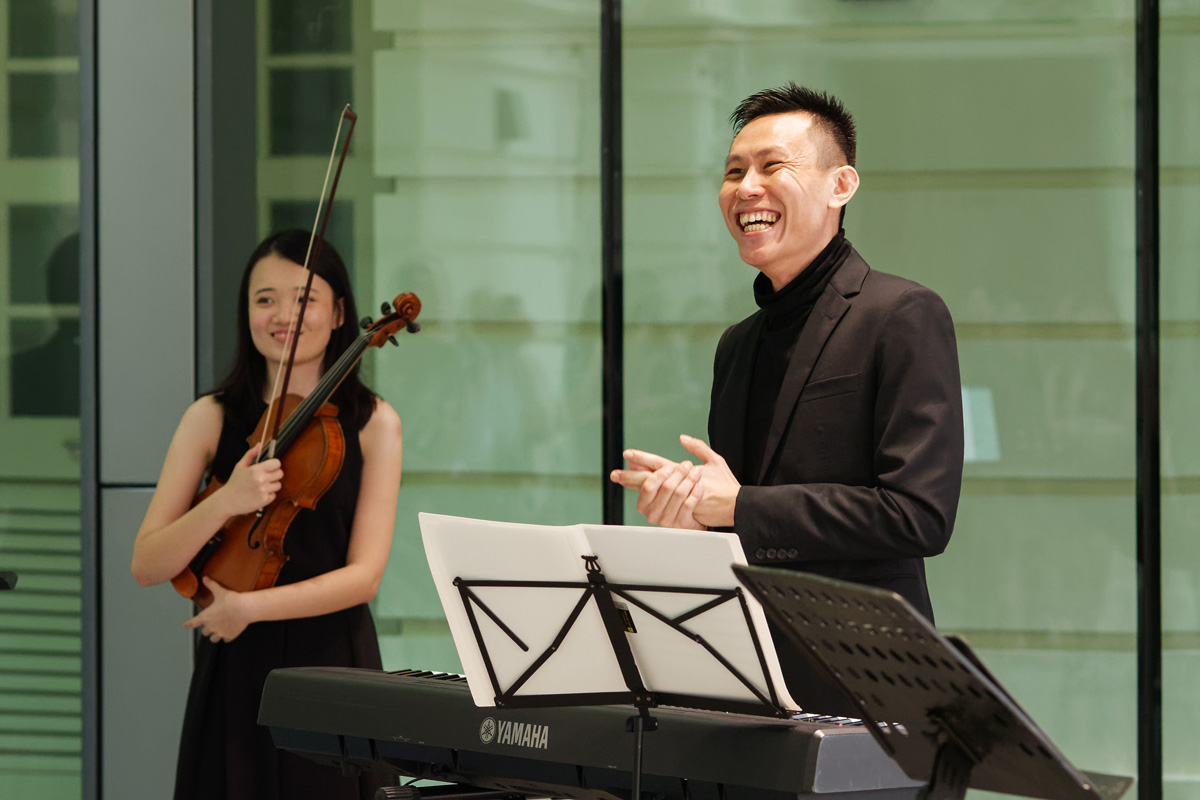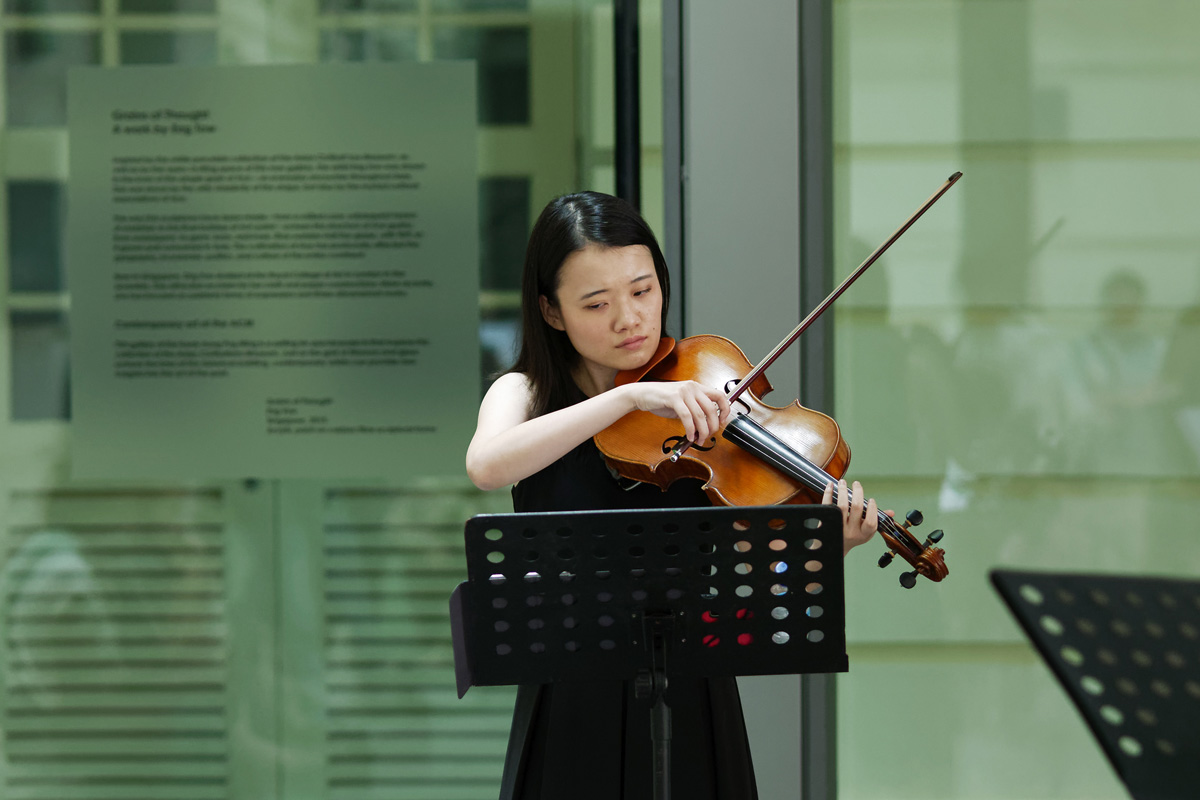 Pursuing the dream : Worlds together
(Extracted from HuArts (Shanghai) article, Worlds together, Photography by Wei Yuet, June 2016)
Composer Tze Toh and the TO Ensemble have defined a possible future for us based on the reality we are presently shaping. Between ends and new beginnings, Toh says, is always choice.
"A few years ago I suddenly had this thought - what if the future sends us a message revealing that all our actions now – the unsustainable use of natural resources, pollution, destruction of the natural environment, wars/conflicts, massive fraud would result in the end of the world. Would that change the way we choose to live? As a race, we are capable of creating incredible beauty, and yet have the equal, if not greater potential to destroy."
"I was compelled to create a work that challenged us to reflect upon our responsibility towards ourselves, our world and most importantly the world we are leaving behind for our children's children. LAND with NO SUN was the result."
Based out of Singapore, the TO Ensemble is a microcosm of its home. It is a synchronistic union of Singapore's cultures; the TO Ensemble's music is an engaging combination of film score, jazz, Latin, Chinese, Indian, European classical, abstract percussion, opera, and anime/ video game soundtracks. Toh's style of music is difficult to define: from pure composition to, at times, free form and improvisational. Toh's creative style is not limited by genre or form. His works take on multiple roles of communication, from pure orchestral musicality to audio-films, where "music is the narrative and images accompany the sound."
"I love improvising and I still think it's the purest form of thought, expression. Because it's about THE moment. You play something and you can't change what you have played. It's a decision you make and you have to live with for the rest of your life. It doesn't get more real than this. It's like choices you make in life, paths you take. There's no going back. Subconsciously you know it, and hence it's so precious."
"Composition is different from improvisation, because it's a process which allows you to take your time, look at the big picture, plan and create something. Because you have time on your side, it allows you to elaborate on musical decisions you make."
Music is communication and the best composers approach a piece as an opportunity to explain a part of the human condition. The TO Ensemble's LAND with NO SUN is just that. "I want to engage the audience with a meaningful 'conversation' through the music."
"I say conversation because the audience reacts during concert, be it a smile, a nod, closing the eyes and dreaming, listening… as a performer on stage, you can feel it, how the audience is acknowledging your music. Things like their breathing, laughter (sometimes) or gasps, and applause. All these, to me is part of this conversation we are having, and the most important part of a performance."
With a grand purpose to question our own actions the TO Ensemble is an influential wave in Singapore's contemporary music scene. Their unique, diverse, and appropriate style of conversation is provoking and influential and has brought them acclaim in their home country. Yet, they set their sights to great ambitions and aim to begin a journey in China. Their dynamic and influential style is on the horizon.